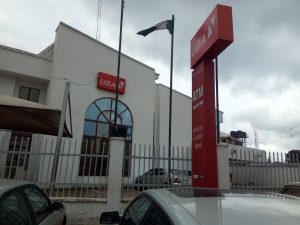 The once strong and dependable United Bank for Africa (UBA) may be going through some rough patches at the moment as the bank has refused to pay tax to the Government of Anambra State leading to what promises to be a titanic legal battle between the bank and the government.
In a move that is being interpreted as a sign of hardship, the Bank on Monday filed a counter motion pleading an Awka High Court to set aside the Exparte Order it had granted to Anambra State Government in June this year authorizing it to shut down the bank's 25 branches in the state for failing to pay taxes.
Following the Order duly obtained from the same High Court, agents of Anambra State Internal Revenue Services had swooped on all UBA branches in a dawn raid, sealing all the outlets last week and grounding UBA operations in the state completely.
A source within the bank revealed that UBA was duly aware that Anambra State Government had a right to sue and recover any debt under Section 50 of PITA as amended, pointing out that both parties had even held a meeting to resolve the matter on August 29, 2018 but negotiations had deadlocked because the state insisted that the bank must specify what it was willing to pay since it had obtained judgement in the sum of N6,938,355,200.97.
The bank's decision to file a counter motion to quash an existing relief granted by the same court is seen as a legal oddity since no self-respecting court can overrule itself. Speaking on the issue in Awka on Monday, Ogbuevi Mike Anumba, a legal practitioner described UBA's counter motion in the same Awka High Court as rather absurd.
According to him, "what the Bank should have done is to go to a higher court and appeal the judgement. I think they are wasting their time.
The state has a right to invoke Section 50 of PITA as amended and demand for the payment of taxes or exert some physical pressure if that fails. I am a little disappointed that UBA has not read the sign on the wall clearly. The fact is that other corporate organizations are actually striving to show themselves as responsible corporate citizens. But I think UBA is moving in the opposite direction."
Calling on the management of the bank to sit up, Ogbuevi Anumba chided the bank for lack of sensitivity to its operating environment, asking "what has UBA ever given back to Anambra State?
A bank that has 25 branches in one state should at least execute one visible corporate social responsibility project in that state. Sadly, in the case of UBA, I can't think of anything the bank has done as a give-back gesture to this state. CSR is a globally acclaimed practice that socially sensitive organizations pay attention to. UBA has not shown Ndi Anambra that it is aware of this ennobling corporate practice."
All the outlets of the bank across Anambra State have remained sealed since last week as the bank continues its embarrassing eyeball contest with the government of Anambra State.
Credit : By Dumebi Chigbo
http://www.anambratimesng.com