Most countries are beginning to react to the recent unfortunate mayhem in Nigeria as her government Places a ban on Twitter.
Could it be that Nigeria government in a bid to shut her citizens off the twitter space have shot themselves in the foot in the process.
Now, let's see this..
Twitter has until its ban been the most handy and vital app through which the same government reaches to the public, sees how people view them, gets feed back, police and Army explains to the public any misconception and clears the air, etc.
Now, all the arms of government and her institutions are currently off the same twitter space. Non of them can tweet or ever respond to it whilst almost all Nigerians they intended to intimidate are back to the twitter app all thanks to the VPN. Nothing changed actually.
Second and most importantly..
The government is believed to have banned the app not necessarily because of the deleted Buhari's tweet but basically to prevent Nigerians from showcasing what's happening in the country to the world.
You'd recall that #EndSARS protests were coordinated basically on Twitter as another protest slated for June 12 still looms and definitely would still happen on Twitter.
Prior to this ban, most activities and shenanigans by the government were actually seen mostly on the Nigerian Twitter feed not until now, Nigerian Twitter feed ranks top in the world's Twitter feeds.
Countries as USA 🇺🇸, France 🇫🇷, etc are already reacting to the ban as insensitive and malicious.
Finally, Twitter itself has made a post regarding the situation in Nigeria 🇳🇬
We are deeply concerned by the blocking of Twitter in Nigeria. Access to the free and #OpenInternet is an essential human right in modern society.

We will work to restore access for all those in Nigeria who rely on Twitter to communicate and connect with the world. #KeepitOn

— Twitter Public Policy (@Policy) June 5, 2021
Nigerian trends have displaced the US trending topics on Twitter US.
This is a potential threat on the high handed APC government. Now anything that goes on Nigeria would immidiately trend outside Nigeria. If that's the case, expect the world to know about every mistep by Buhari.

— PatoG #EndSars (@egwuatulam) June 5, 2021
Worse still, what do you think will happen when IPOB and Biafran agitators begins to trend their videos of human rights violations? It will be watched on thousands of devices in the US and draw widespread attention.

Buhari has allowed anger and tribalism to be his downfall.

— PatoG #EndSars (@egwuatulam) June 5, 2021
I am deeply concerned by the suspending of President Donald Trump on Twitter. Access to the free and #OpenInternet is an essential human right in modern society, even if you disagree with their politics.

— Lavern Spicer (@lavern_spicer) June 5, 2021
They are isolating their people from news and preventing them from telling what is happening.

— *LyndaThompson* (@Lynda_Katerra) June 5, 2021
They want to cover the atrocities and human rights violation against the indigenous population. There's an ongoing systematic Extermination in the South East part of Nigeria as I'm writing now by Nigeria Army and police.
They don't the world to know this @jack @Twitter pic.twitter.com/8PAcp8fd4n

— UkLetBiafraGO! (@Ozor11159550) June 5, 2021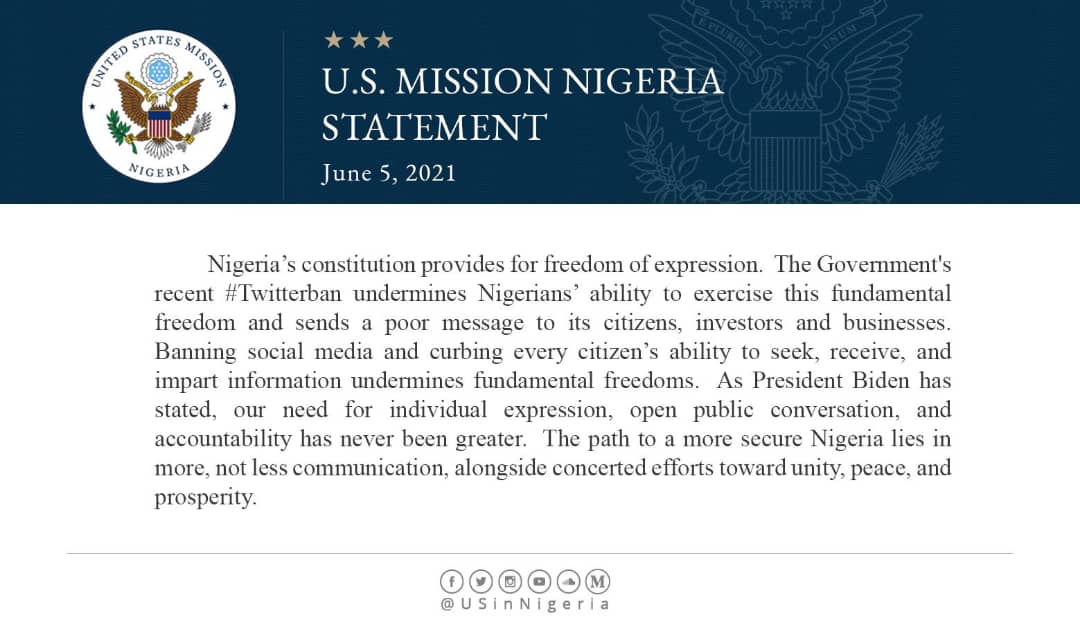 … This is definitely a well planned script to intimidate Nigerians and isolate them from getting information to and fro the world.
Unfortunately, the government would have to use VPN to view Nigerians on Twitter. 🚀