It was such a tragic moment earlier at a roadside Market as a driver  conveying blocks lost control of his truck most probably due to break failure and swayed into a market, killing both some tomato sellers and buyers alike.
However , the driver was seen crying uncontrollably as he couldn't believe what just happened .
Kind hearted passers-by tried rescuing some victims i would say were able to have been alive miraculously.
Meanwhile, this is not Nigeria but definitely an African country as seen from the video..
May God bless the dead….!!!
See some pictures and video below..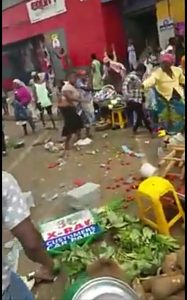 See video below…
We sincerely apologise for the earlier headline……it wasn't in Ketu.. ..so sorry about the misleading headline