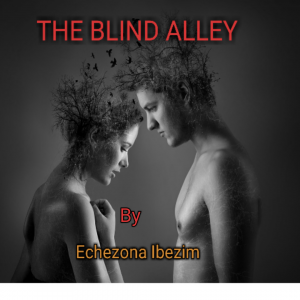 Great fear gripped us as Mathew's mother slumped, i thought her case would be like papa's own.
Fortunately for us, she only lost consciousness for a while as we already drenched her clothes with water. She was resuscitated almost immediately.
She got up and sat down on a plastic chair infront of the main building, looking steadily at me.
I couldn't decipher why she could probably be looking at me.
Maybe, in her mind, she must have taken me to the police to detain me for destroying her son's saccadotal life or probably lynched me for the perceived sacrilege.
Semi walked up to me and and held me by the hands, looked me straight in the eyes and asked.
"how did this happen Obiọma?.
" why did you hide this from me all these while?
"why did you chose to embarrass me like this?.
The myriads of those annoying questions kept on gushing out from his buccal cavity without even asking if i was being attentive.
He was quite indignant.
"Bro. Mathew," i'm sorry, 'i finally spoke up.
"I didn't mean for these to turn out like this," I kept narrating.
"I left your house with strong detest for what you did to me, changed my line in a bid to avoid speaking with you but later realised i was pregnant after four weeks of leaving your house," i told him not without tears rolling steadily down my cheek.
It was obvious this tale hit Semi so hard. He looked lost as he immediately left my hands and walked towards his mum.
The entire house was tumultuous….
Obviously, none of us knew what to do as we all couldn't proffer any valid solution.
Finally, mama summoned courage and walked to Semi, held him by the hand and asked him to stop crying.
I was surprised at mama. I thought she would be mad at Semi for putting her daughter in an unprecedented family way, but here she was trying to pacify the situation.
We heard the gate open as a car drove in…
It was Bro. Mathew's dad.
A very tall, handsome young man in his late 50's walked out of the car with smiles on his face. Now I knew where Semi got all his cuteness from.
He didn't notice he had visitors….
"Obi di ya (her husband's heart)", he shouted immediately as  he locked his car.
He was calling his wife, semi's mum……
From his countenance, one would easily understand he was very happy, eager to break some news to his wife.
He walked in to meet four of us, including his wife he was calling.
"Good afternoon sir," mama and i greeted him.
"Good afternoon, "he responded as he immediately asked his wife whom we were.
" Dad, meet Obiọma and her mum, the family i lived with during my apostolic work at Onitsha,"Semi waded in.
" Oh My God!!!!!
"And you people allowed them to be seated downstairs?," he appeared angry at his wife for giving us such an awkward reception.
"please, let's go upstairs, my son actually did say alot of good things about your wonderful family," he kept saying as he ushered us to his beautiful living room upstairs.
Poor him…..
Only if he knew why we were in his house…
Only if he realised that a toad doesn't run in the afternoon in futility.
Mama and i feigned to be happy as we walked with him.
Semi and his mum trailed behind us without uttering a word.
"have they eaten anything?," he asked his wife.
"Mba, nna anyị" (no our father), "his wife said as she tried leaving the living room to fetch some food for us.
" Please wait, my love, "he said..
" Let me quickly break the good news to you before you leave so that we would celebrate this wonderful day together with our beautiful visitors," he said to his wife.
"The state government has approved that contract i had been pursuing for the past 2years, the secretary to the state government called me today to break the good news to me," he said accompanied his tale with a boisterous laughter.
"When good news meets bad news"..!!!
" His wife simply uttered," Chukwu dalụ (thank God) and tried walking out.
He felt disappointed with his wife's attitude towards the supposed best news of the year……
"Why would she sound so cold to me, "he thought momentarily.
At this juncture, Semi's father realised all wasn't fine.
The wide grin on his face waned gradually.
Needless asking if all was fine, he instantly knew all wasn't as our august visit could spell doom.
"What's the problem?," he finally asked his wife.
Honey, please ask Mathew.
Mathew has killed me oooooo  !!! ……your son has killed me, "her thunderous cries couldn't be quenched as she  flinched her hands on her husband's chest.
"Daddy," Semi said, "I know you would feel so disappointed in me but i must say…. .
"My friend shut up and tell me what actually happened," he violently cut him short.
"Daddy, eeeeeeeeeehm… i. .. eeeeeeeeeehm …" he kept stuttering.
"My love, "the young lady here is pregnant for our son Mathew," Semi's mum helped him out.
Suddenly, Nigeria seemed like Afghanistan to Semi's dad.
He obviously was shocked to the marrow… totally stuck for words….
"Holy Mary Mother of God, please pray for us sinners, now and the hour of our death," i silently prayed.
Watch out for the Final Episode
Do you enjoy reading our stories ? Kindly scroll down and subscribe to our blog as to get more stories once updated. Thanks .
© written by Echezona Ibezim of jkcyno stories