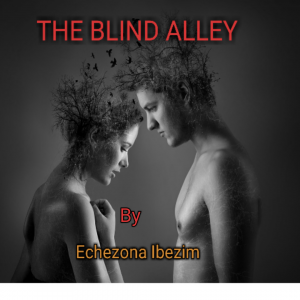 Hearing Bro. Mathew's voice again reminded me of the little good moments we had. He had been someone who i genuinely loved…. Everything about him meant alot to me not until the hedge was broken.
We accepted Chimee's offer to sleep over in his house till dawn but i was very uncomfortable with it.
We were meant to sleep on same bed where Bro. Mathew desecrated me…..
It felt fresh on my mind again, very tormenting. I could still feel the blood stain, the pain and the disappointments….. It was all coming back to me.
However, i managed to sleep till morning before we embarked on our second missionary journey to Agụlu in search of the man whose child i was carrying.
All through our journey from Enugu, my mind was so unorganised. Myriads of thoughts enveloped and took the better part of me.
"What could possibly be the reaction of Semi if i told him i was pregnant..?"
Pregnant for him!
"Why did he choose to travel now?
" How would his parents feel upon finding out this atrocious act?"
All these rhetorical questions kept me busy as my mama was busy praying.
She held my left hand in the bus as she recited the holy rosary but not without tears flowing down copiously down her feeble cheek.
"When would she ever stop crying?," i asked myself.
Getting to Agulu wasn't very difficult as it wasn't very far from my hometown.
We got to semi's town at exactly 2:38 pm.
According to his description, he had asked we stopped at the "Nwagu market", take a bike to his compound.
"By mere mentioning of my father's name, no okada man would find it difficult locating our compound," he boasted.
Guess by now in his mind, i was coming to see him, maybe to ask for his hand in marriage……..nonsense !
Within few minutes, we found ourselves infront of his house.
A white one-storey building with a very large compound, decorated with beautiful flowers, it was really scenic.
We met a beautiful young lady in her mid 20's right in front of the building who later explained herself as Bro. Mathew's younger sister. She looked so much like him.
She innocently offered us seat as she rushed upstairs to fetch the Almighty "Ororo".
Bro. Mathew came down almost immediately to find me and mama seated.
I could figure out how surprised he was to have seen mama with me. I didn't tell him i was coming with mama, so his surprise wasn't surprising to me.
He greeted mama first before turning to me with fears written all over his face.
His initial excitements had gradually waned.
He was looking very gaunt in the white billowing kaftan he was wearing. The sickness really was dealing with him.
"wow, mama, how are you and how is papa," he nervously asked mama.
"We are fine my son," mama managed to drop off a smile.
"Why are you people here mama? , "i hope all is fine," he quizzed mama further.
"eeeehm…. My son, where are your parents?, "mama asked him.
"My father had gone out very early but mama is upstairs," he tried explaining.
At this juncture, his apprehension knew no bounds, he felt restless as he turned to me.
"Obiọma, what's the problem,? Stop tormenting me,"
almost raised his voice on me.
My eyes could not hold back the tears. I allowed it flow freely.
Mama looked at me pathetically and bowed her head in despair.
I'm pregnant….!!!
"I'm pregnant for you, "i finally summoned courage to tell him.
It was as if he didn't hear me correctly. He immediately dropped my hands he was initially holding.
" What did you say Obiọma?, "he asked almost pushing me off.
"My son, Obiọma said she is pregnant for you," mama waded in as i couldn't even withstand his ferocious face.
"How did it happen," he asked me a question i found very stupid of him.
I felt like giving him a very hot slap. I could still remember how he smooth-talked me into serving him my "flower" on chimezie's bed.
He quickly broke down in tears,..
The trio of us were already feasting in a festival of tears as Mathew's mother entered the room to meet two strange people crying with his son.
"Mathew, what's happening here? ," she asked her son.
"Mummy, "i'm finished," he said to her mum in jitters !!!
" What's the problem?," his mum asked with so much nervousness.
" Mummy, the young lady here is Obiọma and she is pregnant for me," semi told her mum.
She slumped immediately and fainted…..
Aahhhhhh…….!!!! Another fainting scene? Just as papa did that led to him being hit by stroke.
Quite a bizarre moment….
God please, have mercy……
Everything had fallen apart…..
Hang on for the Semi Final……
©written by Echezona Ibezim of jkcyno stories.