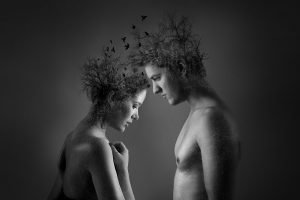 In my discordant dream , i saw myself in a strange and totally different environment. It was so beautiful, so serene and felt so good.
It was more like a resort centre. Some families were busy riding a horse, some kept themselves busy with the melodious tunes from the ogene music played by some group of boys as they dropped money for them.
I was alone and almost secluded. Suddenly, someone held me from behind, trying to cover my both eyes with one of his palm as the other hand held me tight at my tummy.
I couldn't imagine whose hand it was but it felt good. With smiles painted on my chubby face, i tried guessing whose hand it could possibly be by using my own palm to feel the hand.
The hairs were so soft and thick, the fragrance smelt familiar.
"Hellooo….!!! Biko, who's this?," i finally asked after i couldn't figure out whom it was.
"Oya, make a guess!!, he said".
It was a male's voice and it sounded so familiar.
"Oh my God, " i finally said with an exhilarating voice. Bro. Mathew?
Is this bro Mathew?, I said again with a heightened exhilaration.
I heard him laugh deeply and almost ready to give in before i felt someone tap me lightly on my shoulder.
"Obioma… Obioma… Obiomaaa!!! ..,"Chukwu Emeka woke me up and cut my dream abruptly."
I felt so angry as i couldn't even decipher whom that person was before my nonsense brother woke me up….. Aghrrrrrrrrrrh!!!!
"Kedu ife ọbụ? (what's the problem), " i angrily transferred the frustration on him".
"come and Put food for papa ", he has been calling you for the past 10 mins without you answering, he said as he left the room.
"Wait….oooo.!!! So it was because of food that they decided to cut my scintillating dream short?, " i thought to myself as i headed to the kitchen to dish out papa's food.
I spent the greater part of the day in seclusion. My mind wondered through all that happened. I couldn't still figure out what the dream meant.
Why was it inconclusive? Who was that person with such beautiful hands? Could it be Semi? why didn't i see his face?
A million rhetoric questions popped up in my brain concurrently within split seconds..
I considered telling the dream to Semi once he returned. In a second thought, i changed my mind. What would i even tell him? "I wondered. "That i saw someone that looked like him in my dream?…..
That's balderdash……
I finally decided to call Onyinye. She is the only person i'd confide in with such new unusual feelings of mine towards a man whose sole aim is to remain a celibate forever.
That's crazy…the gods must indeed be crazy!!
I narrated my strange ordeal to onyinye my best friend. I told her how it all started and how i' m now caught up in the web of my own emotional brouhaha.
Onyinye took her time to laugh at me. She had dated two different guys since we left secondary school and currently dating another one.
Definitely, onyinye is the most qualified love Doctor to either cure me of this melancholic situation i have found myself or better still proffer some medications.
She found my tale rather ludicrous…  Couldn't believe that such a "Nwa Mary" (Mary's child) like me would even have feelings for a guy not to talk of a seminarian. Kind of weird to her but it was true afterall..
Onyinye gave me an advice that frightened me. First, she told me openly that i was suffering from "lovingitis"…
"What's lovingitis, " i asked as i became more worried".
Hang on for the Next Episode… .
Do you find our stories interesting? Kindly scroll down and subscribe to our blog as to get each new stories .Thanks. 
© written by Echee Jk Ibezim of jkcyno stories