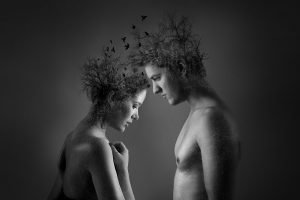 THE BLIND ALLEY – EPISODE 4
"In the name of Jesus!, in the mighty name of Jesus!!, father, i pray in your name this morning that your will be done…….."(continously, the prayer echoes)
"who could be praying by this time," i wondered as i checked the time and discovered it was 5:15 am. "
Oh! , it was Bro. Mathew. He had woken up so early to start his morning devotion. My room was next to his and quite adjacent to Papa's room.
" He must be a prayer warrior, "i asked in soliloquy before heading to the rest room.
Papa would definitely love this one as he has seen a companion that would ginger his avid love for prayers.
In my house, it's almost a taboo if we missed a morning mass. Papa would ensure we woke by 5:30am, say our Rosary and all proceed in a single file to the church for the morning mass. It's a routine no one could stop and we grew up with it.
If there would be something that made me more happier about Bro. Mathew's presence in our house, it would be that i'd be opportuned to follow the next batch in my church to do "confirmation" as Bro. Matthew was  the leader of the confirmation catechism class.
"Haba, "there's no way he would fail me, 'i reassured myself.
Bro. Mathew became used to everyone in my family. He would spend hours with Papa most time discussing the Bible.
Everyone likes him. His humility and quick adaptation to our lifestyle was apt. Sometimes, he'd play video games with Emeka and they were almost like best of friends.
As the day goes by, i realised how unease i was each time "Semi" sat beside me.
I Just can't say, i feel somehow when he looks me in the eyes and talk… His soft way of talking and his meekness has taken a toll on my emotions.
Helloo…..! What's possibly wrong with me? Could it be that i'm developing some feelings for Bro. Mathew?, "i kept ruminating.
God forbid.!! .. Devil get thee behind me," i rebuked the weird "ogbanje" spirit in me".
Papa had asked Mathew to help me with my catechism classes in preparation for my forthcoming "confirmation".
Mathew is very brilliant and a science student as well which is a big advantage to me as he had also become my personal JAMB tutor each time he isn't in the church.
He'd help me with my mathematics, physics and chemistry subjects in preparation for my JAMB examinations. With him, i'm sure of entering the University to study my dream course, Medicine and surgery at Okofia in Nnamdi Azikiwe University, Awka.
Quite unfortunately, this lewd thoughts in me seemed like i was alone in it as Bro. Mathew had never done anything that could possibly show he has or would ever have interest in me…. Never..!!
I felt bad each time i realised he wouldn't be mine and some how feel ridiculously jealous that he would be married to Jesus afterall…… Poor me…
One Night, something strange happened that terrified me and this would definitely change  alot in my family as whether Bro. Mathew would continue living with us or not..
Hang on for the Next Episode…
© Written by Echee jk ibezim of jkcyno Stories