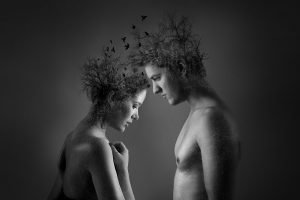 THE BLIND ALLEY – EPISODE 3
We got home that day with the new august member of our family. I practically avoided looking at him in the car. Throughout the journey home, papa initiated most of the talks and laughed loudly like never before….. He must be so happy and somewhat satisfied to have been chosen amidst other parishioners.
"Obi dị asọ Jesu", must be so elated….. That's papa's nick name as every member of the church would address him including the Priests.
I immediately entered the kitchen to start boiling the rice as mama had previously made stew before going to the church.
"Obim…. Obimoooo..", "Papa called me from the sitting room. He would only call me like that only when he is happy. Just like mama loved Emeka fervently, Papa is so fond of me, always spoke highly of me and bragged amongst his peers how they would soon start addressing him as," Papa Rev.sister", very soon.
He believed i am so pious just like himself and should be seated at the right hand of the father in heaven….. Maybe, after Our mother Mary…. He definitely would be nursing such things in his vivacious mind.
"Where is your brother?," Papa asked immediately i entered the siting room. "go and call him" "ọ́sisọ́"…..
"Meet Bro.Mathew, the new seminarian,"Papa introduced him to us in a cloying manner". As you already know he is to live with us through out his apostolic work.
"Nnaa"…meet my daughter, Obiọma, she just finished her Secondary school and awaiting to write JAMB…..
She is so intelligent, made almost parallel "A"s in her WAEC and she is….
I immediately cut papa short in between his litany of praises and eulogy as the young semi stood and kept gawking at the whole scenery.
Papa almost forgot that Emeka was there as he laid much emphasis on his daughter….
"Eheeen,,, My name is Chukwu Emeka Ibe," the first and only son of Mr. Josephat Nwankwo Ibe of Amangwu Village in Anambra state, "Emeka started introducing himself to the Seminarian in a very funny way that made everyone burst into laughter.
Chukwu Emeka's sense of humour is top notch. He must have gotten it from Papa as each time spent with both would leave your stomach in pains from the comic reliefs they both entertain their listeners with.
"Forget that nonsense boy, " papa teased Emeka as
we all laughed and welcomed him with every possibility that our stay with him for the next 11 months would be nothing short of blissful. "
"eheen", i didn't even ask where you're from, "Semi", "Papa seemed to have remembered".
"Where are you from?," he asked while trying to sip some coffee.
"Actually, "my father is from Anambra state but my mum is from Abia state, so i'd say i'm from Anambra state sir", and my native name is Chimezie, he said with some sense of unease.
Obviously, he wasn't so comfortable while revealing his identity.
"Wow, " Anambra "nke anyị" (our own)?.
Which part of Anambra?, "Papa queried further.
"Agulu, Sir!," he said almost exposing the shy part of himself.
"Nsogbu adiro" (no problem), i'd get to know more about you as we progress, "he added as he kept sipping his coffee.
"Thank you so much Papa, the warmth and joyful reception you people gave me is unbelievably awesome," Bro. Mathew said in appreciation.
By the special grace of God, "i'm confident that my stay here would bring nothing but blessings and goodness
His smile was something else. He talks slowly with a calculated speeches. He has a cute dentition with a well chilled gap tooth which made him look so handsome.
His height and fair skin with deep voice complimented his cuteness and i couldn't help but notice all these just in a twinkle of an eye.
but hey, "i have absolutely nothing to care about his physique or cuteness, absolutely nothing, after all, he has chosen to be a priest and from his countenance, he'd make a good priest.
"The smoke from the kitchen cut short our meeting abruptly as I totally forgot that i had rice on fire before papa called me…."
"Obioma, "please don't burn down this house i used my gratuity to build " biko", "papa teased me as i left them alone in the parlour to retire to the kitchen… .
Hang on the next Episode ..