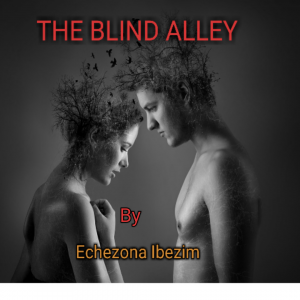 It rained cat and dog on our way to Enugu. My mind never was at rest all through our journey as i couldn't fathom how we would connect to Mathew when we eventually get to his school.
The young lady who appeared as a preacher in the bus we were  didn't make it any funnier for me as her preaching was so direct……. I felt she was rather insensitive.
"Are you a young woman here, and you have been sleeping around with a man that's not your husband," she kept preaching.
"matakwa amata n'ọkụ ala mmụọ bụ nke gị (be fully aware that the hell fire 🔥 is for you)"..
"Some of you have even taken in severally for another man out of wedlock and you think you would make heaven?…. Never!!!,
"she said almost very certain i was going to be the course rep. Of all the hell fire candidates…. Obviously, she had given me a spiritual registration number into hell fire…..
What rubbish!!!
My mum immediately looked at me as she was preaching in her normal crude disposition….
I now realised how Peter must have felt when Jesus turned and looked at him upon his denial….
I buried my head in shame….it was as if she came prepared to regurgitate my sorrow.
"My village witches must have sent this woman to hunt me, "i thought angrily.
Thus ; My village witches 3-0 Obiọma.
I really felt like challenging her in her self righteousness….
I was abhorrent of all she did say…. They were vacuous and repugnant.
My joy knew no bound when she eventually alighted at 9th-Mile Enugu and uttered God bless you all as she carried her stupid self out of the vehicle sluggishly.
What a relief…..!!!
"Obiọma, have you tried his number again?," mama asked as she tapped my shoulder slightly from behind.
"Yes ma, it's still switched off," again i lied.
We arrived Bro Matthew's school at exactly 9:15 am.
It wasn't their visiting day as the possibility of seeing him that day would be so difficult.
Visitors ain't allowed in the seminary school aside on their visiting days unless with a very cogent reasons.
I thought for a while, what could be more cogent than my predicament?
we went straight to the same reception room he took me during my last visit.
I tried explaining to the security official  that our visit was impromptu hence we had to come on such an unofficial day of visit.
The fat security man with pot belly shrugged before agreeing to help us.
I remembered his face during my last visit…. He was certainly the man that engaged Mathew in a heated argument before granting him pass that eventually gave me a pass into my stomach.
"what's the young man's name and his class," he demanded.
Gooooosh……!!!
I could only remember his first name but not his surname and never did i know his class.
My frustration knew no bound..
Mama stood at akimbo as all these transpired and watched us keenly.
"Eeeeehhm…. eeeeehmmm…. Sir, i don't know his class but his name is Matthew, "i stuttered.
" Mathew who?, "he also demanded.
I don't know his surname," i shamefully replied.
He got miffed as he asked whom the young man was to us…..
"Who again did you say he is to you young woman? , " he asked again looking belligerent.
"He is eeeeeeehm….." I was looking for another fat true-lie as mama waded in.
My son, she is my daughter and the young man is……
Jesus…..!!
My heart skipped… One could literally hear my heart pump from 30 miles away…
For once, i thought mama wanted to divulge my pregnancy to the security man….
"He is also my son, as he lived with us during his one-year apostolic work in Onitsha,"mama continued.
"St. Augustine's Catholic Church, Onitsha", she added.
I could feel the relief on his face as he said you're welcome ma with a big grin.
Thank God…. Mama came to my rescue.
"Mama, you have to hold on till 12noon, after the Angelus, that's the only time i would have access to the Rector as to explain to him, maybe, he would be of better help to you people, "he said while taking a big bite at the corn he had on his hand.
No problem my son, God bless you," mama thanked him as we withdrew to the long wooden bench beside the flower vase in the reception room to wait for 12 noon.
Hang on for the Next Episode….
do you enjoy reading our stories? Kindly scroll down and subscribe to our blog as to get fresh stories once updated. Thanks
© written by Echezona Ibezim of jkcyno stories