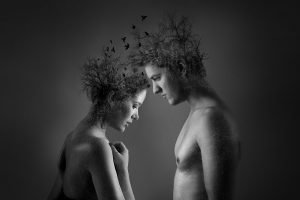 Again and again, sleep eluded me. Coming out of one problem only meant a fresh application to another tasking problem.
If anyone had told me my life would turn out to be this herculean, i'd carefully design the person's face with some ounces of slap……
Not me, not Obioma…..!!
Unfortunately, the reality was becoming dawn on me… It was all happening to me…. Needless resorting to a more comforting phrase, "God forbid".
"How would i appear in front of the seminarians with a round tummy doted with a protruded navel, seeking to see a seminarian supposedly responsible for my pregnancy?," i kept the scary imaginations to my self.
Very early in the morning, mama had finished preparing for the August journey to Enugu.
She wore her sky blue gown, the one papa bought for her during their 17th wedding anniversary. It looked so good on her. She had her rosary, a Bible and a bottle of olive oil.
One would wonder if mama was set for a spiritual acrobatic combat or supposedly going for a deliverance session in Enugu.
"Mama, what are you doing with all these articles?, are you going to deliver the young man?," i humorously asked mama.
For the first time since i came back to the house, i tried making some jokes out of my pathetic miserable state….. I laughed momentarily.
"Yes dear, " that boy needs some serious charismatic deliverance from the spirit of ichabod,"mama responded while heading to papa's room to inform him about our departure.
"Eeeeehhm…!!, mama Obioma… My God will lead you both safely. Since the devil had chosen my family as the recreation ground for his antics, i vehemently refuse to play along,"papa gave us some comforting words.
"However, "he continued….
When you people get to Enugu, don't make any troubles with the young man. Try as much as possible not to raise any dust. Seek for their superior and tell him you'd wish to speak to Mathew in private.
" Ụnụ anụrụ ife m kwuru( did you people hear what I said)?, " ha said as he managed to get up from his bed.
We had engaged the services of a physiotherapist who comes to the house every Tuesday and Thursday to take care of papa. To the glory of God, he was responding to treatment as he could do some things all by himself unlike the early stages.
His words were raced with wisdom…. It was comforting and made me to be more relieved knowing fully well that my parents were ready to carry my cross with me on my way to my own calvary.
Chukwu Emeka pleaded to follow us as he was evidently hurting from the situation his erstwhile friend, Bro. Mathew had put his sister……
From his countenance, one would easily decipher his brutal intentions…. He was my younger brother but you would think he was above 30 years of age considering his physique….
Mama declined his plea to follow us but rather advised him to stay back and look after papa upon our return….
"Just as Jesus told His disciples before His glorious ascention into heaven, "stay put and wait for the Holy spirit……..
He waved at us as we both entered okada to Upper-Iweka where we would get the vehicle travelling to Enugu.
In the bus, mama asked me to call Bro. Mathew to inform him of our coming. It was a nice idea i thought…
Reaching out to my phone, i realised i didn't have his number any longer…..
Holy Moses…!!!
I pretended i was still searching for it while i seized the opportunity to imagine where the number could be.
I knew i saved his number with "Sweet Mathew"….
"How come i couldn't find the number?,"i rhetorically asked myself.
" Where is the number Obioma? ," mama asked again as the driver asked me to fasten my seat belt before he drove off.
At this juncture, my ancestors whispered to me……"My daughter, have you forgotten that you changed your former SIM card, that was where you saved his number"..!!!!
Goooooosh…..how on earth would i start telling mama that i didn't have the phone number of the person we were going to visit?…. The supposed father to my unborn kid?
"When would I stop disappointing my mum and myself?," i angrily retorted.
I remembered i left the SIM card at my hostel after i swapped it with my alternate line in a bid to remain incommunicado to Semi immediately i returned from Enugu.
I didn't know what to do but feign making a call.
I lied to mama that his number was switched off but not to worry that we would see him once he got to their school….
Little by little, i was becoming swift in quick responses to lies……
"Devil must be so proud of me by now, "i said to myself in disgust…
What do you think would possibly happen to them?..
Hang on for the Next Episode…. 
Do you enjoy reading our stories? Kindly scroll down to subscribe to our blog as to get fresh stories once updated. Thanks
© written by Echee Jk Ibezim of jkcyno stories .