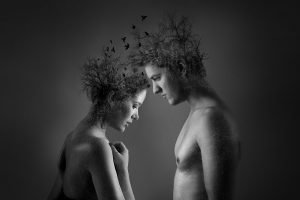 I closed my eyes for few seconds, trying to wake up from the presumed sleep, yet, i was so much awake.
I didn't know whether to feel relieved after my narratives to mama or feel rather perturbed.
The tears from my mother's eyes melted my heart….she however remained resolute on finding lasting solution to my plight.
She referred to it as "our" problem…
"My daughter," it's ok..stop crying, nothing is difficult for God to do, "she reassured me as she used her wrapper to wipe my tears.
Mama seemed to have remembered an escape route..
A sudden resurgent spirit engulfed her as she suddenly said," i think i know what to do!
Eurekaaa….!!!!
What could she have possibly thought of?
"My daughter," she said. We are going to tell your father Semi wasn't responsible for your pregnancy. We would find a way to make him belief he wasn't. I'm sure his plight would be little if he realised a neutral person was responsible.
I was overwhelmingly perplexed at what mama said considering the fact that papa's illness was as a result of what i already told him.
"Unless he had gone amnesic," i'm sorry mama, this plan wouldn't work", i quashed mama's suggestion.
At this stage, papa had gone partially disabled as his right limb wasn't moving pretty well any longer. He literally drags his feet while walking and his speech ability had been slightly impaired.
I knew mama's suggestions wouldn't work out perfectly well as long as papa is still breathing, he'd definitely decipher what we were trying to do.
Alas, we agreed to divulge everything to papa as well and only prayed it never aggregated his current situation the more.
"Nna anyị(our father)," how are you feeling?, mama tried to ascertain his mood and condition before going ahead with the proposed discussion.
In his pale looking condition, he managed to say he was fine as his mouth was already bent whenever he tried speaking.
"Papa Obioma, we wish to discuss something with you , "mama said to him while looking fixed at me as i sat behind papa's bed.
He gesticulated with his hand signaling her to continue….
"Eeeehm….. Eeeehm….. Papa obioma…. we have…
"Woman talk if you wish to talk or rather remain quiet! ", papa roared at mama as she was stuttering.
Papa might be down with stroke but his inertia strength never failed him anytime he needed it for action.
I already knew mama didn't know how to start so i decided to take the bull by the horn and talked to papa instead.
"First," papa, i would say i had disappointed you and our family.
"Words fail me trying to express how grieved i am from my despicable act…"i said all to papa looking dejected and remorseful.
It was really a festival of tears as i watched my papa burst into tears.
His head dropped down, buried in his pillow, I could still hear him cry.
Mine had been flowing copiously even before I entered papa's room.
Surprisingly, papa reached out to me and held my hands .
"My precious daughter, stop crying," he looked deep into my eyes while managing to use his left arm which wasn't affected to wipe my tears.
"I had been on a 9-day Novena to our mother of perpetual help to intercede for us in this current difficult moment of ours, "he told me while trying to sit up on his bed.
Mama was seated at the side stool beside his bed sobbing.. She sat there pathetically looking at father and daughter crying profusely.
Oh my poor mum.
Papa seemed to have long consoled himself, braced up to carry the heavy cross his daughter had placed on his frailty shoulder.
I tried narrating to him how it all happened same way I did to mama but he rather asked i stopped.
He said it was of little or no importance if i told him after all the milk had been spilt.
We needed to put our heads together and profer the way forward.
"where is that young man? ,"papa asked of Bro. Mathew 's way about.
"I wouldn't know for sure but he certainly should be in the seminary school," i guessed.
Papa shook his head inutter disappointment.
In his mind, he would be imagining how the whole scenario got degenerated to such a bizarre point of no return.
Mama waded in and suggested we visit the seminary school and look for him.
First, I didn't think it was the best option but Papa had already upheld it.
"You people must go and inform him that the goods he placed order for had landed, he should hastily come and clear the goods at the wharf, "papa tried sounding sarcastic even in his sorry state.
I couldn't help but laugh in my mind at papa's funny instructive order.
"Obioma, how do we get to the seminary school ?, " mama asked as she looked already set to storm Enugu.
What could possibly happen at Enugu?
Hang on for the next Episode…
Do you enjoy reading our stories? Kindly scroll down and subscribe to our blog as to get new episodes as they drop. Thanks 
© written by Echee Jk Ibezim of Jkcyno Stories