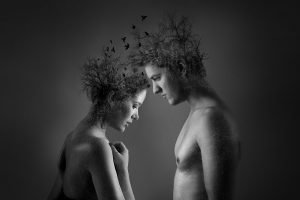 For some minutes, i thought the whole world had come to an end. Never did i envisage such a tumultuous happenstance as a result of my stupidity.
"God please have mercy, 'i cried.
Mama and Chukwu Emeka tried to resuscitate papa as i ran to call "Dee Livinus" the chemist man.
I did not know what to do as papa slumped.
Neither myself nor Emeka knew how to drive as either of us would have quickly taken him to the hospital instead ….
Pathetic us…
I returned with the chemist as suggested by mama to meet papa already seated on his wooden back chair in front of the long corridor.
His breathing pulse wasn't very ok, he was almost panting. The chemist looked at him twice and shook his head.
"Mama Obioma, "i think we should rather take him to the hospital, his condition isn't what i would handle," the chemist suggested.
Oh my God…!!!
Carelessly Loosing my virginity was bad enough but loosing my dad as the repercussion would be horrible….. I doubt if i would survive the aftermath.
As none of us knew how to drive, mama pleaded with the chemist to see if he would drive papa's car…
His sorry case was annoyingly embarrassing. He said he doesn't know how to drive manual vehicles.
As big as he is, he only could drive automatic driven vehicles…..
"could you imagine, "i angrily thought.
I felt like slapping the hell out of his dumb head but that wasn't my problem at the moment.
Mama quickly rushed to the road to fetch any available cab. After a short while, she returned with a cab as we took papa to St. Nicholas hospital.
Papa didn't talk nor move  while we were heading to the hospital, he was just mopping. In my head, billions of apprehensive thought were wobbling….. I really don't know what had befallen papa.
He was admitted immediately we got to the hospital without further delay.
The Doctor had finished examining him before asking mama to come to his office. I immediately followed suit not minding that i wasn't invited..
"I'm sorry  madam, i think your husband had suffered a partial stroke,"he said to us .
I'd say you people are lucky to have brought him when you did, it would have been worse afterall.
"Anyway, not to worry as we would try everything under our control to make sure he is ok, "he tried to convince us he would be fine.
Mama cried uncontrollably… I also wept.
For once in my life, i contemplated suicide. How on earth did i get myself embroiled in such an impasse.
Where do i start from?
Where do i run to?
I was there pregnant, the man who impregnated me does not even know. My innocent father was down with stroke all because of my few moments of stupidity.
That would be the second time Mama would  cry inside the doctor's office within two days…..all because of me.. When the news of my pregnancy was broken to her and now, my papa's case……. She really was looking bleak and pale already.
I managed to console her as i tried not to cry anymore. It was just like a melo drama in the Doctor's office.
"I have told you people to calm down, nothing would happen to him," he went further to convince us.
We were eventually discharged after spending 15 days in the hospital.
He was really recuperating.. ..
Just for a while, I wished papa had gone amnesiac. I wished he would just go blank, Just momentarily without remembering what really happened before he slumped.
Inside my room, i was kind of ambivalent. I felt bad i had to say the truth and maintaining that truth would cause more damage, i already knew.
Mama had invited me quietly in her room to further ask me how it all happened… Mother to daughter talk…
I was stuck for words… I actually didn't know how to start.
It felt as if i was in a confessional divulging my sins to a Reverend Father seeking for absolution .
He who is on the ground already fears no fall.
I knew i had lost it all and had nothing to lose if i said the whole truth afterall.
I narrated my strange ordeal to mama. I told her how i travelled to Enugu to see Semi….
Shamefully, i had to open up to her…
"How do we now face your father? ," she asked as we both contemplated on the next move to take…..
Hang on for the next Episode …
Do you enjoy reading our stories? Kindly scroll down and subscribe to our blog as to get all the stories as they drop. Thanks 
© written by Echee Jk Ibezim of jkcyno Stories.