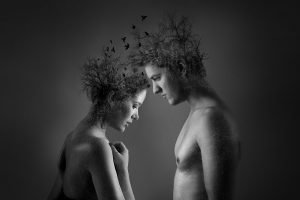 THE BLIND ALLEY – EPISODE 1
"We're all going to attend 10:30 am mass tomorrow, " papa said before we concluded the night prayer". We only attend such masses each time something big would be held in our parish, St Augustine, hence, 6:30 am mass had always been my ideal mass.
"What could be happening tomorrow, " i wondered".
"Nna anyị, " what's happening tomorrow that we don't know of, "mama asked keenly as she tried packing the rosaries and the devotional hymns we used for the night devotion.
"Does it mean that you people don't normally listen to the announcements after mass?", "Papa asked," rather furiously. It was announced last Sunday that we would be playing host to the new sets of seminarians that would be doing their first apostolic works at our parish tomorrow.
"Haba," i can't believe non of you heard it and after, you would still come out if they asked for the people that attended Holy mass, "Papa said with a scornful smile.
Where is Chukwu Emeka?," papa curiously asked as everyone wondered where Emeka was.
Oh my God, " i knew Emeka was already in a hot bitterleaf soup as i noticed he didn't join us in the night devotion.
Obioma," will you go to the room and check if Chukwu Emeka is there," he roared at me with disgust.
Mama followed me immediately after sensing the rage in papa's tone. She knew he would beat the hell out of him that night if he missed the night devotion for any trifle of an excuse or worst still, sleep.
Mama entered the room after i had dragged him up, still staggering in his sleepy appearance, fully dressed in his night pyjamas, mama held him as she obviously figured out the possible excuse that would exonerate him from papa's imminent decimation…..
"My name is Obioma, and i am from a very strict and staunch Catholic family. My father was a retired head master whose devout faith in Christ and His Holy mother Mary was unwavering."
I and my younger brother Chukwu Emeka were the only children our parents bore and never have we lacked anything as children. Our live was content.
Mama was a devoted Christian who held several top posts in the church which include the president of the Catholic women association (CWO) amongst others.
Chukwu Emeka had started serving mass ever since he received his first holy communion at a very tender age of eight.
Oh, "i almost forgot, " i was the president of the "Mary League Association" in my parish, President of mother most chaste senior presidium and secretary of St. Vincent de Paul pious societies in my parish.
My family was among the most revered in the whole of St Augustine. If you would advise your kid, "Obioma and Chukwu Emeka", the brilliant and religious children of Mazi Ibe would be the most ideal example to cite….. Yes, we were wobbling in grace as "ụmụ aka a zụrụ azụ ofuma". (well trained kids).
That was the kind of family i was born into and never would neither myself nor my brother do anything to bring our family's name to disrepute.
Chukwu Emeka managed to excape papa's wrath that night after mama made excuses for him for not feeling too strong, hence he was suffering from an "imaginary" malaria fever.
Mama loves us both but her love for "Emynwa" as she fondly calls him was very vicious as she would do anything to exculpate him from any scuffle.
I remembered sleeping very little that night as i kept thinking of what the new seminarians would look like…
"Oh God", …. Can tomorrow quickly come and pass so that these people papa spoke highly of would come and leave already so i would continue my normal itinerary biko, "i kept thinking until i blacked out…..
Hang on for the Next Episode…
© written by Echee jk Ibezim  of jkcyno stories