Football is no doubt a unifying tool. The heightened emotions that follow football are so intense that it could take one to the extreme side of ecstasy when one wins.
That being said, the 20 year old starlet, Samuel Chukwueze has shown the world the stuff he is made of.
Although, some La Liga fans ain't new to the sensational Villarreal Man as he had been tearing some teams apart.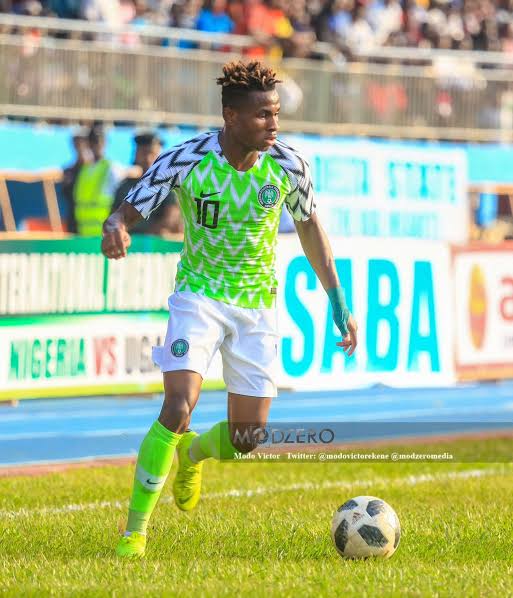 His remarkable performance against the Bafana Bafana of south Africa further brought him to limelight.
See his goal against the Bafana Bafana
Samuel Chukwueze's first AFCON goal. His awareness is top notch. Iwobi good work. #AFCON2019 #SuperEagles #BafanaBafana pic.twitter.com/ggZfb1h6ao

— Chukwuemeka 🇳🇬 (@ChuxEkere) July 10, 2019
See his exploits against Real Madrid…
Chukwueze taking a Piss at Real Madrid Players last season

You Love to See this Sauce 💉 🔥#NGARSA #SuperEaglespic.twitter.com/77AzpCUldK

— FUTBALL ARENA (@FutballArena) July 10, 2019
Nigerian international, Chukwueze assaulting players for fun. A proper star. He is 20!!! #NGARSA #SuperEagles#AFCON2019 pic.twitter.com/QBCunZKaAE

— Oluwarotimi Phemmy (@Phemmy070) July 11, 2019
Watch our man Chukwueze ending careers in la Liga.

He also killed xenophobia today.#TotalAFCON2019 #SuperEagles #AFCON2019 #NGARSA #IfBafanaBeatsNigeriaIWill #GOAT#SSFootball pic.twitter.com/IyArc5CuNh

— Baridueh Badon (@BadonB) July 10, 2019