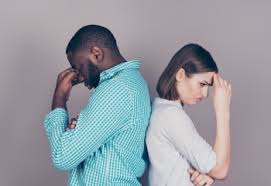 Nb : apologies, there's a bit of mix up from the previous episode. .. You'd understand as you read down… Thanks 
She insisted the marriage rite will not hold. All her troubles and gymnastics did not stop the elders from taking the bride price. There wasn't any formal ceremony but the marriage was conducted traditionally. I became the second wife of my pastor in an ironic way.
After the marriage rite, the elders held a meeting with mummy pastor for about three hours. I was later informed that she was pacified by the elders. She initially threatened that she will walk out of the marriage if Deji marries me but she was advised not to leave since she will be the one to loose especially now that she has no child for Deji. All her years of suffering and sacrifice will be wasted if she leaves.
She was advised to accept me as her sister and my baby as her baby. And the presence of baby in the home may cause hers to come. She was left with no option than to accept her fate. Sincerely, I felt for her too but I was the source of her disappointment and bitterness.
She embraced me with tears in her eyes. She collected my baby and said "you shall be called Olushina", Olushina means God has opened the way. We adopted the name and began to call him Olushina.
After the marriage rite, Deji was to go before Akombo to swear an oath to forever be committed to me and my baby. I was really afraid for Deji because my late grandfather used to tell us how terrible Akombo can be. But the question still remains if Deji will accept to swear the oath.
Everything for the swearing of the oath was ready at the shrine and the chief priest had sent his servant to come and fetch Deji. I thought he was going to resist the call, rather he was speaking in tongues as he followed the chief priest's servant.
Two elders, one from my family and one from his accompanied him to the shrine. He took the oath without considering his faith. After all had been done, my fears shifted to what will happen to me as Deji's wife.
Will he leave me in Kabba or take me back to Lagos? I began to weigh the options. If he leaves me in Kabba which is the most likely, I will have to stay with his family members in the family compound house.
All my dreams and aspirations will be suspended because they can't be realized in such a locality. If he takes me to the city, how will I face the shame? What will I tell Stella if she eventually comes back? Would I still be able to return to the church?
Deji was not talking to me so I was left in the dark on my next move. On Sunday morning, mummy pastor came to inform me that we will be going to Lagos together on Monday. But my things are still in Kabba ma.
Don't worry about those things, Daddy will arrange how they will be sent to Lagos. She collected Shina and backed him. On Monday morning, we set out for Lagos while others who came from Kabba went with the bus that brought us.
Read Also : 

Pastor's Second Wife – Episode 7
We got to Lagos and another phase of trouble started. Mummy pastor and Deji had days of fight over my case. While she insisted we will live together in their three bedroom flat, Deji wanted me to live separately. I guess he had not relinquish my apartment in Ikeja.
Deji wanted to start his secret game with me again but mummy pastor wasn't going to allow that. She seemed to have made up her mind to let the church know everything Deji had done.
In one of the fights, the argument was hot that I had to come in. I was shocked to my marrow when Deji began to beat Mummy pastor. The way the whole fight happened, it was obvious Deji has been a serial wife beater. That wasn't his first time beating that woman. Is this how he will be beating me too? Well, I noticed that tendency of a violent man in him during the several encounters we had had.
But why has mummy pastor not exposed him all this while? Why did she cover up for him all the time he had been abusing her?
Since I came back from Kabba, I haven't stepped out, not even to the balcony. Life became so boring to me. Deji wasn't talking to me, mummy pastor only talks to me when food is ready or when it was time to bath Shina, etc. I was practically shut out of the world. My life became meaningless and worthless.
I couldn't go out for fear of being seen by people I know. More so, I had grown so lean due to all I have been through lately. Church members who come to see Deji never crossed my path because my room was hiding, and I hardly came out for anything. I was able to hide for three weeks before the cat was let out of the bag.
I started coming to the sitting room to watch TV once a while. When I notice someone was at the door, I will carry my baby and run inside. I knew this hiding game would not last forever. On that fateful day, I never heard a voice or a knock at the door. I rushed into the sitting room backing Shina when I stumbled at the women leader of our church.
She screamed my name, "Sister Mercy" and she went mum. Mummy pastor joined us as we both looked at each other in total surprise.
Women leader broke the silence, Mummy pastor what is happening here? She asked. Daddy is in the best position to explain ma, she replied as I shamefully walked back to my small prison.
When Deji came back, I guess mummy pastor told him all that happened when the women leader visited. He rushed into my room, "you foolish woman, you want to destroy the work I have been doing for fifteen years. You are a bad luck and a witch" he ranted.
He removed his belt and flogged me like his child. Mummy pastor rushed in to rescue me but he descended on her too. She left after taking her own share of the beating. I was very angry and this time around I made up my mind to expose him. Enough of this evil, I told myself.
The next day, church members started trooping into the house, obviously to see and confirm what the women leader told them. I heard their voices but I made sure they didn't see me. Three days later, Mummy pastor brought a letter for me. On opening it, it was a summon for a meeting with the G.O. At this time, I knew it was over for Deji and his many years of lies.
Hang on for the next Episode…