Today, in Nasarawa state, faithful #obidients have Staged a One Million match for Peter Obi and Yusuf Datti Baba-Ahmed. This match earlier announced  is so massive that the opposition are feeling the heat already.
Jkcyno news gathered that, Nasarawa state is currently on shutdown as thousands of Youths filled the street shouting "Hossana To The Highest"…. Yes, the information is passing to the creeks.
Read Also : #Obidatti023 : Physically challenged man from Adamawa takes Peter Obi's Evangelism to the Market (video). 
Unfortunately, The wicked APC looters and their twin sister, PDP must be jittery by now as they have United as opposition to a supposed structure less Labour party.
See images and video live from Keffi..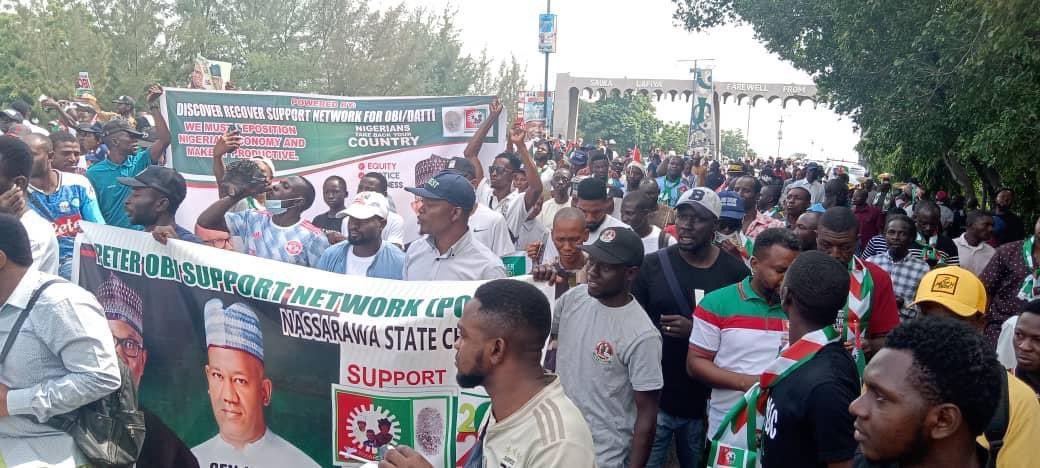 Watch video below..
Happening Now:

One Million March for Peter Obi happening Live at Lafia, Nasarawa State!

Mr Bayo Rema Fireboy FCMB EFCC Ini Edo #ArnoldOut Soro Soke Tinubu Shekau Enugu pic.twitter.com/nIcdAB76Y7

— bhezzi® LAMAR STREET 🦇 (@Bhezzi3) August 6, 2022
The turn out was massive pic.twitter.com/bXyHE9SwiU

— Director 🥇 (@chi_neils) August 6, 2022
My people, let no one deceive you…. Peter Obi is officially a global force, not even the Agbado kingdom nor Dubai based Atiku with his dollar induced liars would stop Nigerian youths from taking over Nigeria..