Prof. Duke Zainab was arrested In Abuja After Allegedly Brutalizing Police Orderly (Video). The issue has been raising so much questions as what really happened to what led to the assault of the police officer.
Jkcyno news reports on the police official statement on the event which many people rather found very unprofessional as they became very sensational by mentioning "Mbaise born".
See police statements below..
GRIEVOUS ASSAULT ON WOMAN POLICE: IGP CONDEMNS ACT, ORDERS EXPRESS PROSECUTION OF CASE

As Professor, Other Culprit Arrested

The Inspector-General of Police, IGP Usman Alkali Baba, psc (+), NPM, fdc, has strongly condemned the grievous assault of a female Police Officer, … pic.twitter.com/pUi1gb8mkp

— Nigeria Police Force (@PoliceNG) September 22, 2022
Inspector Teju Moses, by her principal who is a Legal practitioner and human rights activist, Prof. Zainab Duke Abiola and her domestic staff comprising the house maid, one Rebecca Enechido and a male suspect currently at large.
READ ALSO : Prof. Dike Zainab arrested In Abuja After Allegedly Brutalizing Police Orderly (Video). 
Zainab Duke, an Mbaise born activist, grievously assaulted her orderly in company of some accomplices on Tuesday 20th September, 2022 at her residence in Garki, Abuja, due to the refusal of the orderly to breach professional ethics by carrying out menial and domestic chores at her house.
The IGP has directed the express prosecution of the arrested suspects who are currently in Police custody, as the preliminary investigation shows overwhelming evidence of culpability on the part of the Professor and her domestic staff.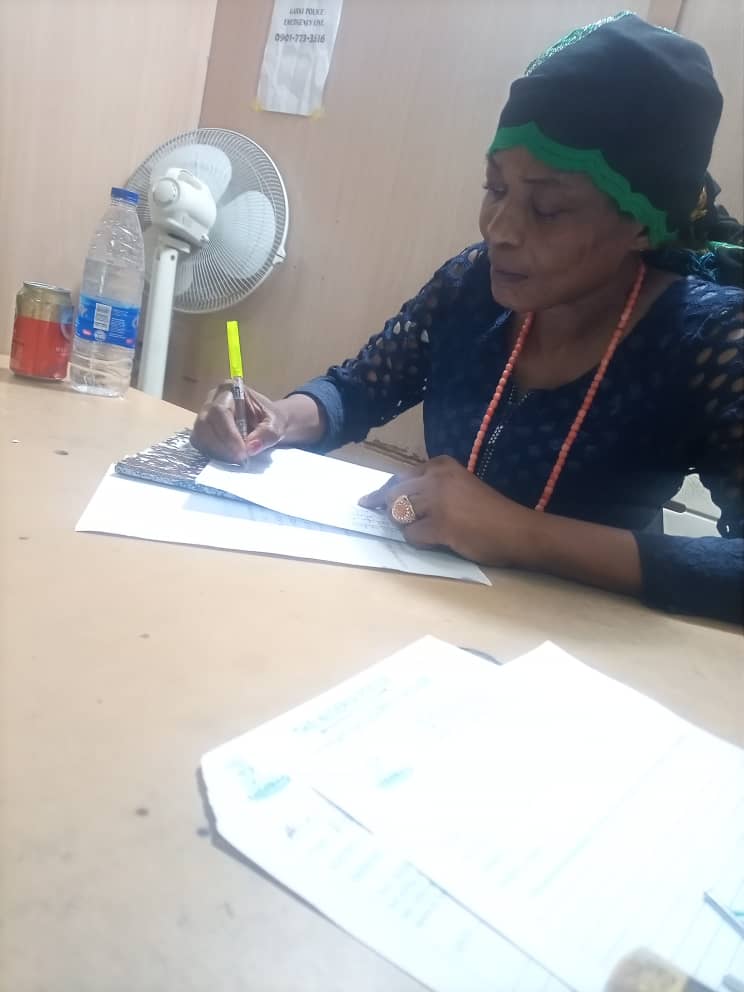 The IGP has equally tasked the investigative team to ensure that the fleeing suspect is arrested and made to face the wrath of the law.
It is pertinent to clarify that the suspect, Prof. Zainab, who name-drops the IGP, his family members, and other officers in the top hierarchy of the Force has no acquaintance with the Police in any form as erroneously peddled on social media.
The Inspector-General of Police who similarly ordered the withdrawal of all Police personnel attached to the Professor, expressed consternation at the fact that an individual who claims to be an advocate for Human Rights could stoop so low to violate the rights of another .
individual, a police officer tasked with ensuring her protection.
CSP OLUMUYIWA ADEJOBI, mnipr, mipra,
FORCE PUBLIC RELATIONS OFFICER
FORCE HEADQUARTERS
ABUJA.
22nd September, 2022
See the reaction from people below..
@PoliceNG is there anywhere in the world where police are allocated as orderly to follow specific people around like body guards?

What exactly is the rationale behind this ideology… Even internet fraudsters now have MOPOL as orderly.
Make it make sense please

— Patriotic Nigerian (@suduq) September 22, 2022
Is there a reason why "Mbaise born activist" had to be mentioned? So what happened to her marital origin or is there an agenda to be pursued?
And what is "woman police"?

You can do better sir.

— Chidiebere Ugo-Nwachukwu (@Lordsanctity) September 23, 2022
I am surprised that the press statement from @PoliceNG will describe her first from her town of origin, by extension state and zone. Whatever value/effect that is supposed to add/give to the statement. It is unnecessary and unprofessional.

— Nobleman Okey (@okeyezealah) September 22, 2022
Abba Kyari a notorious Fraudulent police officer arrested in connection to Drugs and ties to Hushpuppi got arrested but was never profiled from his state of Origin or tribe but police is Quick to tell us Zainab Duke is from Mabise your hypocrisy is smelling tufiakwa

— Chikwaski (@Markis36498921) September 22, 2022
Muyiwa is an unprofessional bigot.

— Uzondu McDonald Ibeh (@uzondu_Ibeh) September 22, 2022
The bigot that made such profiling report has refused to say the state Prof
Zainab is married to cus obviously, Mbaise people don't answer Zainab Duke.