Kano state, OBIDIENTS are set to test their own microphone in the capital city of Kano state with a 1 million March for Peter Obi and Yusuf Datti-Babba Ahmed tomorrow, 24th of September, 2022.
The gospel of Peter Obi, like kerosene is slowly reaching to the entire North and  South west by the millions of voluntary foot soldiers willing to take back their lives and nation via Peter Obi from the same old cronies fighting hard to hold it back.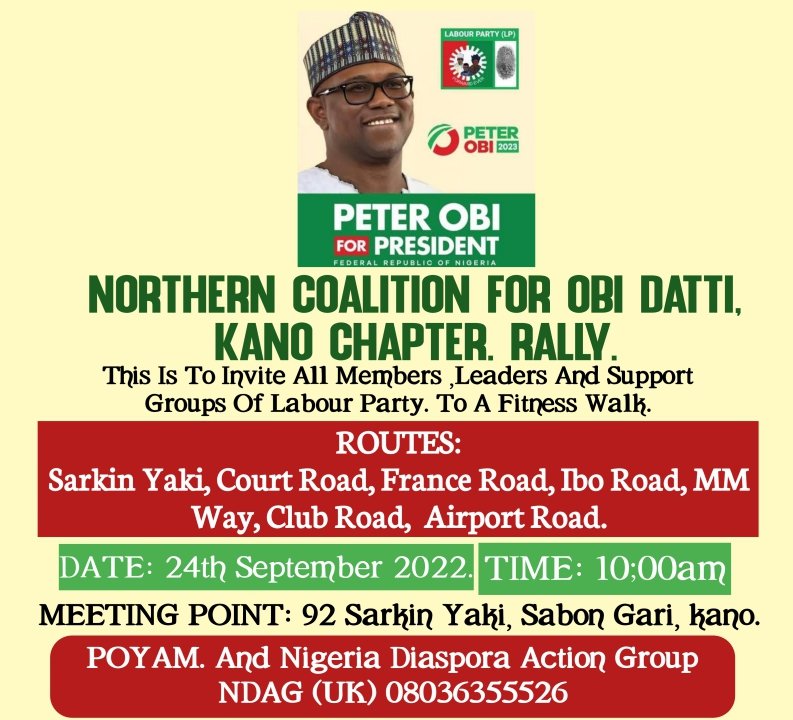 Meanwhile, Kwara state OBIdients are not slacking as they intend to draw their own straw 🥤 tomorrow as well.
All these marches are happening prio to the main campaign by the Labour Party which kicks off by 28th September, 2022.
READ ALSO : Adamawa Labour party office looking beautiful (video).
Jkcyno news gathered Away from the North that Akure people in Ondo state are OBIdients and ready to change the narratives.
Watch video below…
Okada men in Akure Ondo state, singing the gospel of Peter Obi, Forward Ever!🙂🙂 #Obidients Celebrate grace.

Reno • Donald Duke • ASUU • The Nigerian • Japa • Kano pic.twitter.com/0KIu0OveZ7

— Arch Angel Jesse 🍥 (@Jessehallidaygi) September 22, 2022