#Endsars was a decentralised social movement and series of mass protests against police brutality in Nigeria. The slogan calls for the disbanding of the Special Anti-Robbery Squad, a notorious unit of the Nigerian Police with a long record of abuse on Nigerian citizens.
On this date, 20th of October, 2020 was the day, the new Nigeria was born without these old, wicked and Insensitive leaders knowing it.
Several innocent Nigerian youths were shot and killed by the invading soldiers and they did everything possible to make the story look stupid.
So many youths were sent to exile because they reported the live event. Dj switch etal
#EndSARS Panel Submitted Report Shedding Light On 'Number Of People Killed' At Lekki Tollgate and this same government seeking for re-election threw the whole report into the waste bin 🚮 🗑.
Many have asked what really did Tinubu do or say after the EndSARS..
See Tinubu's interview..
I've always said told them that #EndSARS is marathon not a sprint!! We need the bodies of our comrades that died at the Lekki Tollgate, to give them a proper burial. While at it, Sanwolu must tell us WHO ORDERED THE SHOOTING? pic.twitter.com/g3hWiaAGMA

— NEFERTITI (@firstladyship) August 1, 2022
Then, there was a Peter Obi and this was his tweet on the 21st of October, 2020.
The killing of peaceful protesters at the Lekki Toll Gate and other parts of the country yesterday is condemnable. It should not have happened.

— Peter Obi (@PeterObi) October 21, 2020
"To imagine that young people seeking to enthrone a better Nigeria where shot at even while they were singing the national anthem is unconscionable."
"We cannot be wasting precious lives that represent the foundation of our future. It is not just a loss to the families who are grieving, but the collective loss of our nation."
"My deepest condolences to the families and friends of all those affected. May their souls rest in peace and their memory a blessing. -PO"
There is always a repercussion for every action and in action.
Tears 😭 dripped and dried up…
They made the youths appear sick and doubtful of what actually happened at Lekki tolo gate.
Little did they know that such event would birth another bigger Revolution that would finally retire all of them.
Peter Obi's movement is only but an amplified version of EndSARS protest now drafting the old and new Nigerians. A movement from the larger majority of the poor and downtrodden. Victims of Reoccurring ASUU strike. The embodiment of every bad situation currently ongoing in Nigeria.
This is novel..
This is so new to them….
Till now, PDP couldn't understand how they lost Peter Obi to a Labour party.
God's hands…
If Atiku hadn't lost in 2019, Peter Obi would've been like Yemi Osinbajo. A Prof with so much intellect, deputizing Buhari without a WAEC certificate. Serving under a man with oozing ineptitude and he has to keep defending it till date.
2023 would be history coming as the new paradigm shift would retire the usual evil and archaic method of recycling same old looters who care less about the citizens.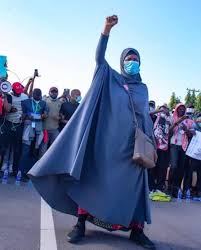 A Labour party without structure would reap the fruit of their Labour by a simple gesture of allowing God to use them to deliver Nigeria.
The reward is already seen…
Who would have informed them that they would suddenly become a force to be reckoned with in Nigerian political space?.. That would have been a wishful thinking but now a reality.
No one should be surprised at the unfortunate fate of Sam Omatseye as he crys for Help on Twitter.
Nigerian youths have taken over the fight. It has nothing to do with Peter Obi. Sam Omatseye actually thought Peter Obi's movement is a form of ACTIVISM. Aluta cotinua abragadabraaa where one leader calls people to order….
Vulnerable Nigerian youths have risen to take back power by force as freedom isn't granted freely.
The time is now…
These old looters must be retired.
Watch video below and feel the emotion behind the EndSARS protest…. It was actually spiritual.
We av waited still now what a patient youths we are! Now we want to ask qtns. Am sure they will now answer us am very sure. #whogavetheorder
Tinubu Datti Kwankwaso #breastfeeding
Wike Deji Amaka #Messi𓃵 Beauty Yorubas "Go and Verify" #BambamSorry
"South East" "Reuben Abati" pic.twitter.com/ftoHeiQvjG

— ochuko (@emibest7) August 2, 2022