Nigeria government has succeeded in Banning Twitter usage in Nigeria as they earlier stated, quite shamefully.
However, it's only but one of the few tyrannical antics by the Buhari's led administration to shut off the citizens from reporting the atrocious acts ongoing in his government.
Jkcyno news is here to teach you how to bypass such useless protocol and keep tweeting using VPN.
What's VPN…..?
A virtual private network (VPN) gives you online privacy and anonymity by creating a private network from a public internet connection. … Most important, VPN services establish secure and encrypted connections to provide greater privacy than even a secured Wi-Fi hotspot.
Steps to use and get back to Twitter….
1. Go to your play store or App store
Search for *Free VPN'*
There are many VPNs of which some would offer you a free trial period before switching it to premium version.
You don't need it for now.
Search for "Thunder VPN", download and install.
Go to settings and choose any country of such with a better network connection as obtained in your local area network.
Germany 🇩🇪 is preferable (i am writing this message currently from Germany in Nigeria… 😂)……. Nonsense and ingredients…..
2. Go to your Twitter and click on settings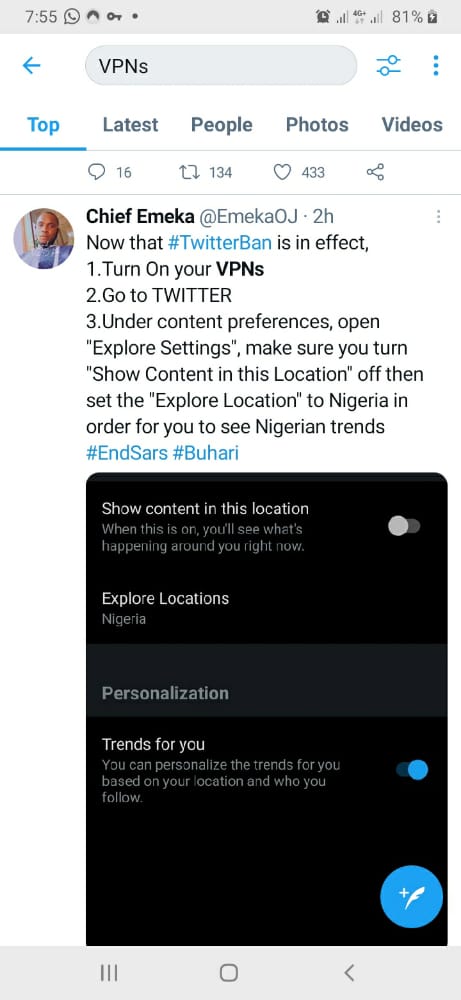 Open "explore settings" from via your Twitter settings icon…. Turn off your "show content on this location"….
But, click on "explore location"…… Choose Nigeria,…… It's a way of bringing you back to Nigeria from your new location… 😂….. You can choose Afghanistan 🇦🇫 if you wish or Somalia 🇸🇴… 😂
Do that and refresh your Twitter . Booooom….!!!!!
You're back online in the beautiful streets of Twitter..
Even the government tht placed the ban would have to download VPN as to see you ever again as the citizens keep reporting their evil deeds to the world consistently….
Nigeria Citizens 5 – 0 Nig. Government
Try it,…. If you're having difficulty doing this, drop your comment below with your email address so we chat you up to help teach you more…
Nigerians must be liberated from this tyrants….
VPN thank you oooooo
NB : you can switch off your VPN after using Twitter as it may prevent you from accessing some apps or sites unless you do some verifications