History would remember today, 20th of October 2020 as the day genocide was meted to armless citizens of Nigeria at Lekki toll gate of lagso state.
Earlier, Jkcyno news reported that that the military personnels were shooting at defenseless protesters at Lekki toll gate.
Shortly, reports came in that they had switched off network in that area and all lights 🚥 were turned off to surround the protesters.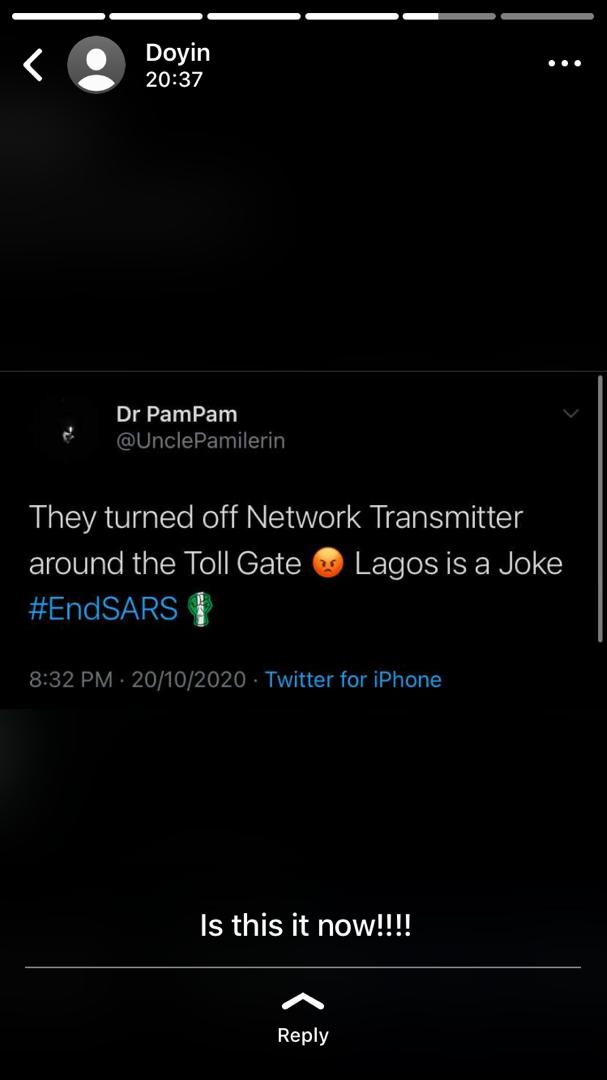 What happened to the use of tear gas or rubber bullets?…. They are shooting at the citizens of Nigeria 🇳🇬 even as they were holding the national flag.
Watch video below..
Soldiers kill protesters at Lekki toll gate pic.twitter.com/RQG7QhN9O5

— MC Jkcyno 🇳🇬 🎤 (@jkcyno) October 20, 2020
Killing is going at lekki tollgate ….No tv station is talking about it let us retweet #JosEndSarsProtest#basedonwhat
"500 Naira"#EndSARSImmediately pic.twitter.com/ZhhEUdkz5Q

— Omihanifa (@omihanifa7) October 20, 2020
NIGERIAN SOLDIERS ARE CURRENTLY SHOOTING IN LEKKI TOLL GATE! RT!!!#EndSARS #EndPoliceBrutalityinNigeraNOW #EndBadGoveranceInNigeria #basedonwhat

Lagos Garba Adamu Clown Jack Ajah Seyi Makinde € 1 billion USD SUVs Sanwo Olu Mushin Prado Operation Burst Twitter in Nigeria Ojoo pic.twitter.com/QkZxpJPAZS

— The Duke 👑 (@Duke_CBE) October 20, 2020