FIBA was informed about the decision of the President of the Federal Republic of Nigeria to withdraw the Nigeria Basketball Federation (NBBF) from all international basketball competitions and activities for a period of two years.
In subsequent communications with the NBBF, and despite FIBA's request, it has become clear that against the circumstances created by the government's decision, the NBBF is unable to confirm its participation in the FIBA Women's Basketball World Cup 2022.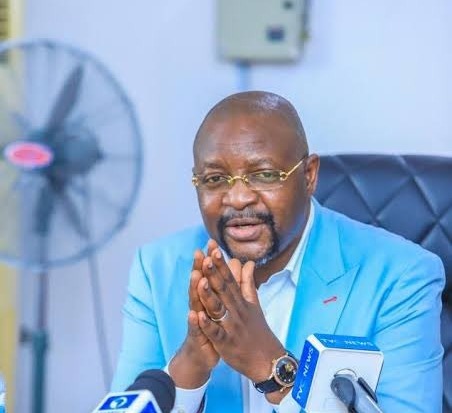 Given the multiple strict deadlines that cannot be postponed in order to ensure the successful staging of a major international event (visa procedures, schedules, ticket sales, accommodations, friendly games, preliminary rosters, flight tickets, accreditations, etc.) and to protect the integrity of the competition, the FIBA Executive Committee has decided as follows:
FIBA will announce whether there will be any other decisions related to the NBBF's participation in other FIBA competitions and any.
Sunday Dare destroyed Nigeria sports industry. May nothing like Sunday Dare never happen to Nigeria sports Industry again. APC government ruined everything in Nigeria. https://t.co/7zemJjfOzT

— Ada Idemmili OGBANJE 👨‍👩‍👦 Labour party (@adaigbo_2022) June 2, 2022
After suffering to book a 2022 FIBA World Cup ticket, D'Tigress will not be attending the tourn after they were withdrawn from the competition by FIBA on the request of Sunday Dare led sports ministry…

I hope he is happy now. Bball in the country will never be the same again. pic.twitter.com/E1G5KBL94b

— Oh' Kelvin (@kelvinekerete) June 2, 2022
From the onset, i was never convinced about Sunday Dare. When you bring a novice to run the rule over a huge industry like sports, this is what you get.
Sunday Dare has made Solomon Dalung look like a genius.

Does the Government even see Sports in Nigeria as an industry?

— Olawale Adigun (@olywal) June 2, 2022
Sunday Dare has got to be the worst Sports Minister in Nigeria's history. Imagine beating Solomon Dalong to crass incompetence? Smh. https://t.co/8yTJCoMmXR

— Owoblow86 (@Owoblow861) June 2, 2022
Nigeria is the best basketball country in Africa.

This didn't happen because of our leaders. It happened because of the players and staff who put their blood, sweat, & tears into their work.

Nigeria's biggest threat from progress is Nigeria. We need change. pic.twitter.com/jm6IDzkmZz

— D'Tigers | Nigeria Basketball (@NigeriaBasket) June 2, 2022
Can someone tell me one aspect of Nigeria that's working fine under  these present APC led administration?…. These are the same people asking Nigerians to vote them again for consolidation? To actually consolidate on these grave in competences?….. Chineke ekwena ihe ọjọọ!