The Lagos State judicial panel on Special Anti-Robbery Squad (SARS)-related abuses has submitted its report to the state government.
The state government inaugurated the panel on October 19, 2020, meaning the panel has sat for over one year.
The panel on Monday submitted its report to the state governor, Babajide Sanwo-Olu at the Government House, Ikeja.
The panel was set up as part of recommendations put forward during the #EndSARS protests last year.
Youths had stormed the streets in some states in the country last year to demand that SARS, a police unit notorious for extrajudicial killings, human rights abuses and violence should be disbanded.
The protesters also demanded that police personnel found responsible for abusing their position should be brought to justice.
A statement by one of the members of the panel, Ebun Olu-Adegboruwa (SAN) on Monday said "following the incident at the Lekki Toll Gate on October 20, 2020, the Terms of Reference of the Panel was expanded to cover that incident".
He said in the state titled 'Lagos EndSARS Panel Submits Report (1)', which was obtained by SaharaReporters that "the Panel sat for well over one year, listening to testimonies of petitioners, their witnesses, experts and lawyers".
Read Also : Best WAEC Students Get N200k Yearly Scholarship From Lagos Government
He continued, "The Panel divided its assignment and report into two principal segments to cover general cases of police abuses and the special case of the Lekki Toll Gate Incident.
Compensation was paid to deserving cases of police abuses while a special case was made for victims of the Lekki Toll Gate Incident of October 20, 2020.
"True to his word, the Governor of Lagos State granted total independence to the Panel, as we worked according to our conscience and based upon our common convictions.
"Specifically for the Lekki Toll Gate Investigation, we set up certain crucial issues for determination, as to whether: There was any protest at the Lekki Toll Gate, the nature of the protest, the presence and mission of soldiers at the Lekki Toll Gate, whether blank or live bullets were shot by the soldiers, whether there was any death and if so, the numbers involved, whether there was any massacre at the Lekki Toll Gate on October 20, 2020, and if so, what evidence is available in proof thereof, whether the police were at the Lekki Toll Gate and if so, whether they shot and killed the protesters, etc.
The Panel answered these questions truthfully, frankly and courageously, based on the evidence led before it, believing that the crimes against humanity that took place at the Lekki Toll Gate on October 20, 2020, would never happen again in our nation.
"In particular, the Panel affirmed the rights of the people of Nigeria to constitutionally guaranteed freedom of lawful assembly and peaceful protests, freedom of association and freedom of expression.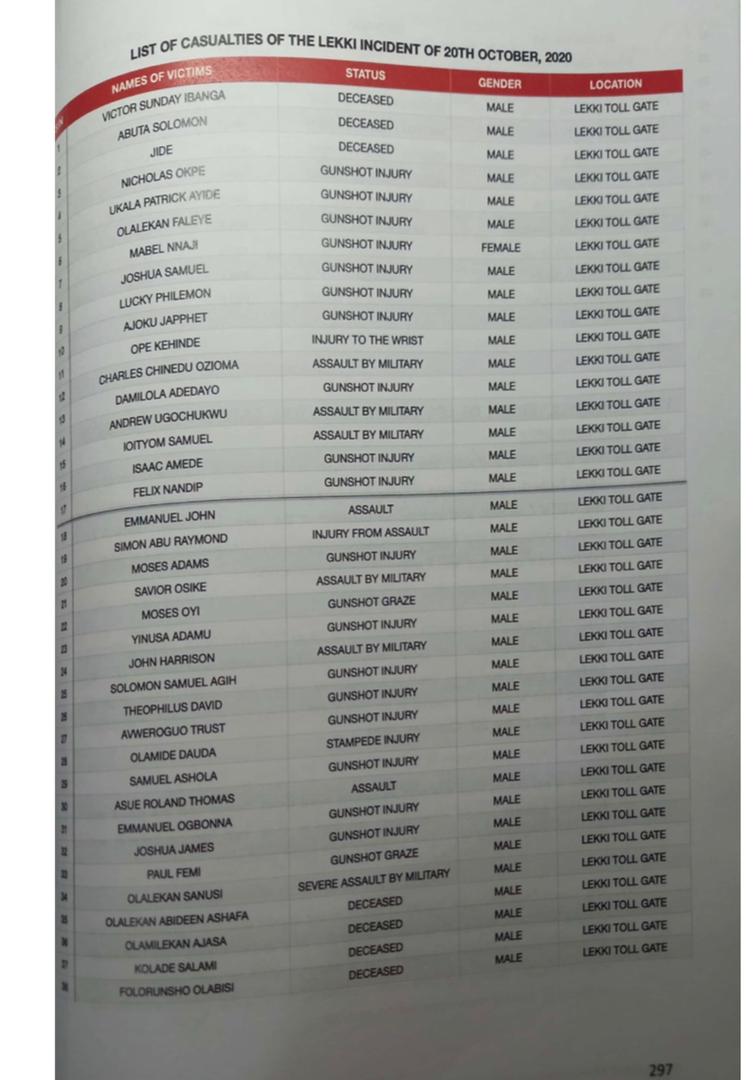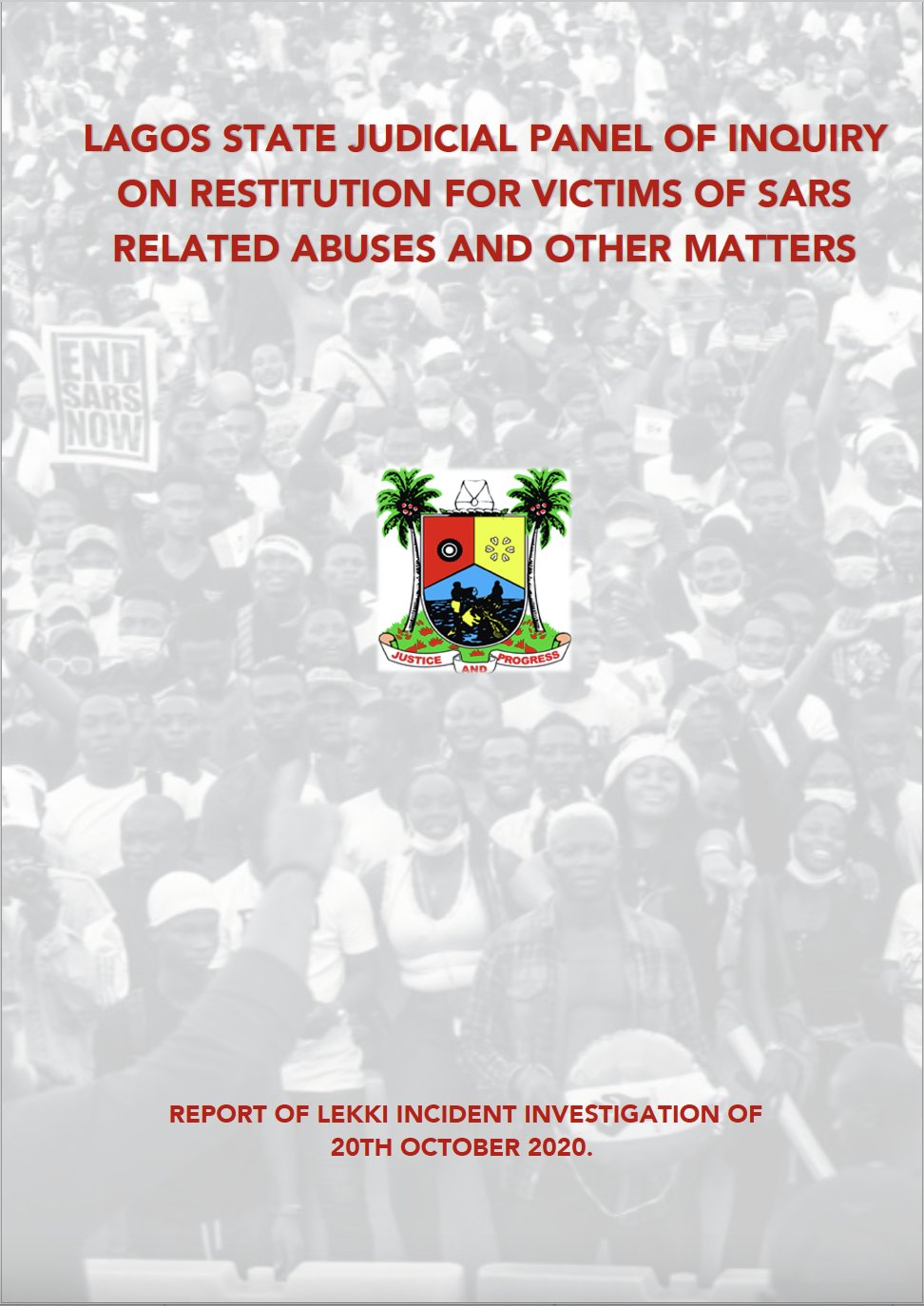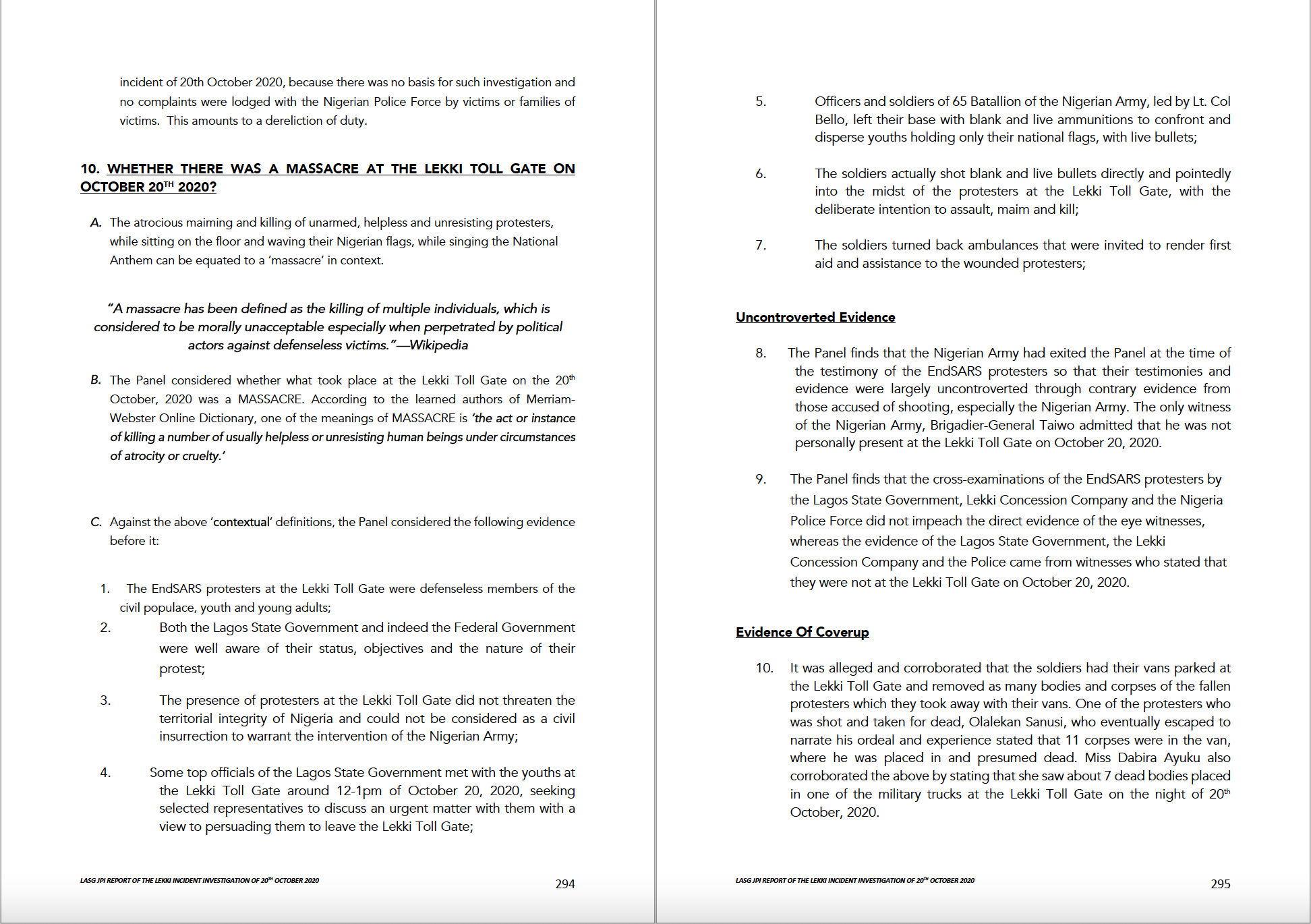 The findings of the Lagos #Endsars Panel are damning. It established the fact that the army led by Lt Col Bello was at Lekki Gate on the night of the massacre. The Panel finds that live rounds were shot directly at protesters resulting in "mass casualty"

Still reading the Report

— Great Oracle (@AbdulMahmud01) November 15, 2021
Everyone that joined hands in making us doubt our sanity regarding the Lekki Massacre, God will punish you!#EndSARS

— Rinu Oduala 🔥🔫 (@SavvyRinu) November 15, 2021
Many people argued about the definition of "massacre".
The Lagos Panel has helped you out. Today is a good day!!!#EndSARS#OfficeOfTheCitizen pic.twitter.com/Ba35wSPEtc

— A Nation @ War (@_yemia) November 15, 2021
Lagos #EndSARS Panel Report!

– Live bullets were shot directly at protesters at Lekki tollgate.
– Lt. Col Bello led the team that went to Lekki tollgate.
– 96 deaths during the #EndSARS protest.
– No. of death at #LekkiTollgate: Unknown.
– Many were brutally Injured.

— Ayemojubar (@ayemojubar) November 15, 2021