The recently launched eNaira speed wallet application has been restored to the Google Play Store barely 24 hours after it was taken down.
Jkcyno news had reported that eNaira app was removed from the Google playstore on Wednesday, some days after its launch by the Central Bank of Nigeria.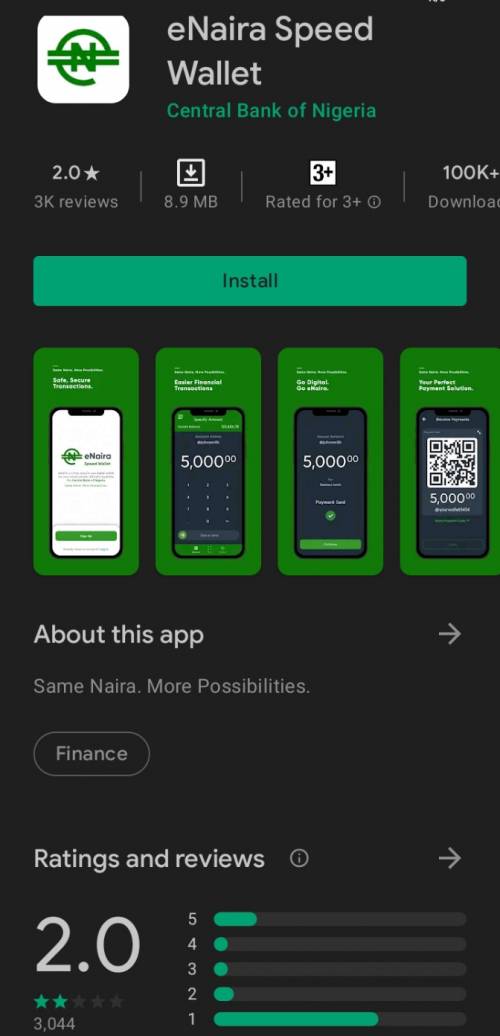 This may not be unconnected to the negative reactions that trailed the launch of the app as many users complained of several issues, ranging from the inability to link their Bank Verification Number, to getting a verification email.
Jkcyno news observed that the majority of the users gave the app one star.
While the Google Play Store could remove an app from its store over violation of policies, including negative reviews, Osita Nwanisobi, spokesperson for the CBN, told TheCable on Thursday that the removal was to help the apex bank upgrade the app's functionalities.
The digital currency launched by the apex bank on Monday has two applications, which are eNaira speed wallet and eNaira merchant wallet.
The eNaira was developed by the fintech company, Bitt, which was also responsible for the creation of CBDC in some East Caribbean countries.
At the launch on Monday, the Central Bank of Nigeria Governor, Godwin Emefiele, boasted that 500 million eNaira ($1.21 million) had already been minted.
Also, in a conference at the beginning of the month, Emiefele promised that the country would start digital Naira currency.
He said the eNaira would operate as a wallet through which customers could hold existing funds in their bank accounts, and that this would accelerate financial inclusion and enable cheaper and faster remittance inflows.
Meanwhile, a notice on the eNaira website explained how the currency and the wallet would work.
It read: "Get Ready With Your Accurate BVN Data For Your Hitch-Free Enrolment.
"To sign up on the eNaira speed wallet, you would be required to input the following details exactly as captured during your BVN enrollment.
"First Name, Last Name, Date of Birth, State of Origin, and Email.
"Your banks are waiting to assist you in validating and updating your BVN details to ensure seamless enrolment to the eNaira platform."