TrikyTee is arguably one of the luckiest housemates to have graced Biggie's show for some obvious reasons.
You'd recall that that he had been put up for eviction more than other housemates and was obviously going to leave and however still escapes.
This week, he won the Head of House eventually and picked Laycon as his Deputy.
This would be the first time Laycon would be gracing the luxury HOH lounge and it made him so emotional.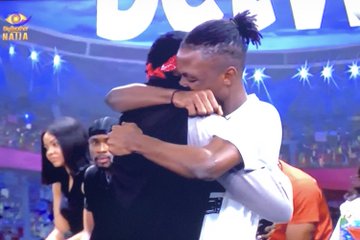 Watch their funny entrance video below….
If after watching this vidoe you didn't laugh so hard, Omoh you need God ooo 🤣🤣🤣🤣🤣🤣. Laycon @itsLaycon na cruise abeg.

This crack mi up o.
🤣🤣🤣
Laycon: My oga,
Trikytee: Depo#LayconTheDepo #BBNaija pic.twitter.com/keiuduSgjW

— Akanni Of Lagos 💡 (@2muchAkanni) September 7, 2020
These two aren't musicians alone but comedians,…..😂
TrikyTee had nicknamed Laycon Depo and he calls him Oga…..
Watch the first time Biggie addressed TrickyTee as HOH….
If this video doesn't melt your heart and make you laugh,then your sadness is something else.
Trikytee the HOH
Laycon the DHOH

#LayconTheDepo#BBNaija pic.twitter.com/fEcR5Q5y4W

— Laycon💡 (@TobiSimeon2) September 7, 2020