#BBNaija :It seems like the twists in the Pepper Dem House aren't ending anytime soon. In another surprise twist, the Pepper Dem Gang were asked to convert the stories they had been working on into stage plays and the outfits sewn will be their costumes.
Time Travelling to The 50s
The journey to the 50s has been quite a daunting Task. From Omashola's altercation with Mercy to the Housemates staying up late to sew their outfits and type stories, the Task has been quite a weight to bear. With the sudden announcement of a stage play and little time to finish up on designing and stitching of attires, the Pepper Dem Gang have their Task cut out for them.
The task presentations Kickstarted with the thundering voice of Biggie ushering the group of 4 housemates to the beautifully decorated stage.
Group 1.. ( The Iconics) 
Seyi, Frodd, Tacha, Khafi, Enkay, Sir Dee.. 
The first group was Lead by the narrator, Seyi who would probably be dragging the role of Biggie next season because of his deep voice and his tonal gradient mastery.
Their panto-mimed drama was filled with energy, so much vigor and carefully directed.
Though took longer time but was so emotional as the whole casts were awesome.
The centers on two brothers who fell in love with a beautiful young lady. The elder brother loved the lady more but noticed his younger was also making advances.
Ethnic crises made them separated from each other.
The older brother later joined the Army and rose to the ranks to become very fierce.
Fate later made the two brothers meet again in such an emotional situation that later turned sour as the older brother mistakenly shut his brother due to anger and jealousy.
In his rage, he ordered for the murder of a young lady outside his office without knowing it was the same love of his life that made him murder his only brother.
He lost all.. His brother, his parents, his love…
It was a tragic end…. Kudoz.
@BBNaija Task presentation by Seyi's team pic.twitter.com/NKK6BG3dw3

— MC Jkcyno 🇳🇬 🎤 (@jkcyno) August 1, 2019
Group 2…
IKE, Jackye, Elozonam, Diane, Gedoni
Aside the beautiful voice of Jackye, their entire storyline was dysfunctional. I couldn't connect as the chosen king Ike was busy laughing all through even when his line was stated, "the king was saddened"… His teeth never allowed his mouth 👄 lock 🔒 together.
All i could say was that Omashola is the luckiest dude this week…. He kissed two different ladies in two days….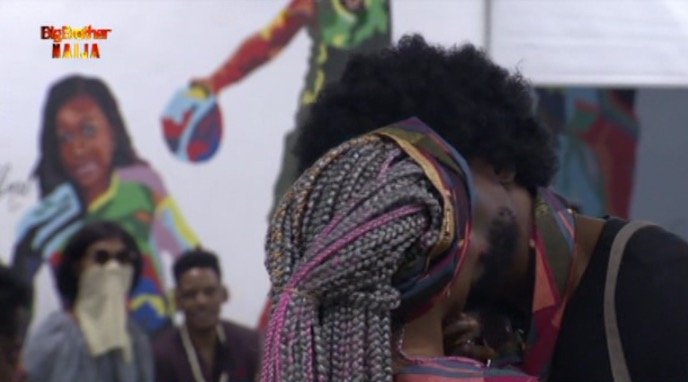 Bla blah blaaaaah…..
The End…..
This movie would struggle to sell 3 copies in Alaba market…… Ike should be flogged.
Group 3
Indelibles…
Venita , Esther, Jeff, Omashola, Mercy, 
Narrator Venita took off on a very high remark as all the actors were performing beautifully well.
The drama centers on an affluent family who had his son who returned from abroad engaged to a young lady he never even asked out.
He assumed she loved him already as to become his wife…. She never felt same.
The young lady was falling for Chinedu a pauper palace guard.
She hung out with Chinedu and the naive dude couldn't connect with her (Ola). She felt deranged.
Chinedu later summoned courage and proposed to her and the movie finished just like that…….. 😱
Finally, The  group that won the task for the night was Group 1 and was rewarded with a 100 Betnaija coins each…
Best Dressed.. 
Mercy
Best Narrator 
Seyi
Best outstanding performances
Diane
Frodd
SirDee..