The Presidential candidate of PDP, Alhaji Atiku Abubakar in a bid to appear as unifier which he campaigns on scores an own goal with a tweet he made.
Atiku who previously deleted a tweet he made against the Murder of Deborah, the Christian student in Sokoto. Atiku who tweeted and condemned the act but later deleted the tweet after some Muslims threatened his political ambition. He deleted and argued he didn't sign it and later talked to the them using Hausa..
See the tweet below..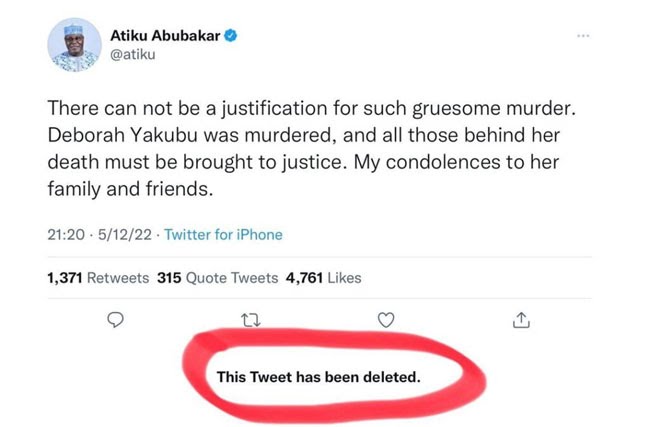 Earlier, Atiku rushed to condemn the murder of a Nigerian, Ogochukwu in ITALY
Read Also : Deborah Samuel's family gifted with 14 flats, Car and scholarship in Portharcourt (video)
double standard personified…..
Deborah's gruesome murder in Nigeria is nothing to Atiku but the one done in Italy 🇮🇹 means everything to him as a proverbial unifier he poses to be.
See the tweet below…
This is his tweet today that's causing the fuss.
See what Nigerians are saying…
Dear daydream president Atiku Abubakar @atiku so you have a spirit of condemning such act yet you posted a tweet for Deborah and deleted it, you have never condemned any of the evils on this land except the ones you use for political gains. @atiku we have made our choice. pic.twitter.com/i43gxUMrKE

— DaddyBilly (@odaodochristian) August 4, 2022
This is pure LAMBA. Deborah was stoned to death, you issued a statement and deleted it few hours later.. then you issued a disclaimer in Hausa… How are you now the advocate of a United Nigeria? Nah! You're the chief ambassador of HYPOCRISY. The aircraft sef no get fuel 🥺🥺🥺

— Akíntúndé Babátúndé (@olorunwababs) August 3, 2022
Condemn Deborah first Oga before your go Spain abi na Dubai de talk trash. Charity begins at home. How do you expect Italy to respond to you when you didn't say anything at Sokoto?

— Musa Dawa (@Dawa419) August 4, 2022
So when it has to do with Peter Obi, he's an IPOB presidency but when it comes to Atiku or Tinubu they tag them Nigerians. Even when bandits & Bokoharam in their clan are doing the most

Y'all are delusional. If the Igbos ain't part of Nig then let them go!

Deborah Arise TV pic.twitter.com/nwkrqmbYzH

— Theodore(Dr) B.Mls, MPH, D.Epi (@DrTheodo) August 4, 2022
Nigerians should never forgive Atiku for that show of shame he put up during the death of Deborah. He should always be reminded that he issued a statement condemning the gruesome killing of Deborah but he ended up deleting it because he didn't want to offend the north.

— Chlorpheniramine #EndSARS 🇳🇬 (@VictorIsrael_) August 4, 2022
Dear Atiku, he was murdered the same way Deborah was also murdered but you cowardly retracted your tweet. Condemning his death will not win you any favour. Please stop playing politics with the lives of Nigerians. Thank you . https://t.co/14x3cPF3Fc

— NK£M #PeterObi2023 (@Nkemchor_) August 4, 2022