#BBNaija : Analysis on how Viewers voted and what to expect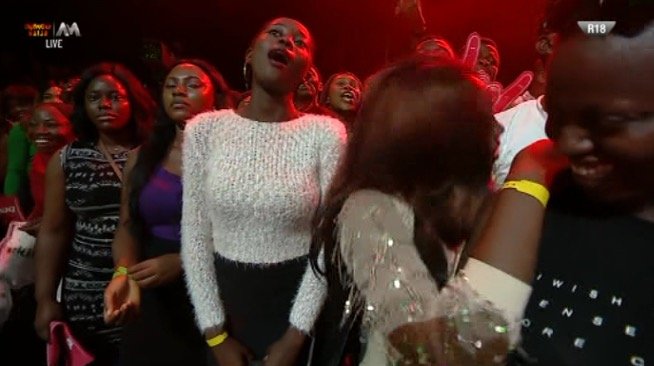 #BBNaija : Tonight had the Duo of Joe and Enkay evicted from the House after 9 housemates were formally put up for possible eviction.
Sir Dee was replaced with Joe by Diane and he was eventually evicted alongside his Herbert Macauley's mustache….. Fans were however feeling emotional for him…. heeeelllooooo.. They didn't vote for him hence he is currently booking for an Uber ride to his house in Oshodi.
As for Enkay, i'd say her altercations with Cindy during the Ludo brouhaha got her evicted….. It would have been Frodd that would have gone in place of Enkay.
However, Enkay was misconstrued by viewers as she said she never hated Cindy……. Unfortunately, She would be in her house by tomorrow morning…. Iyan Ipaja bus straight to Okoko.
Now see how the viewers voted….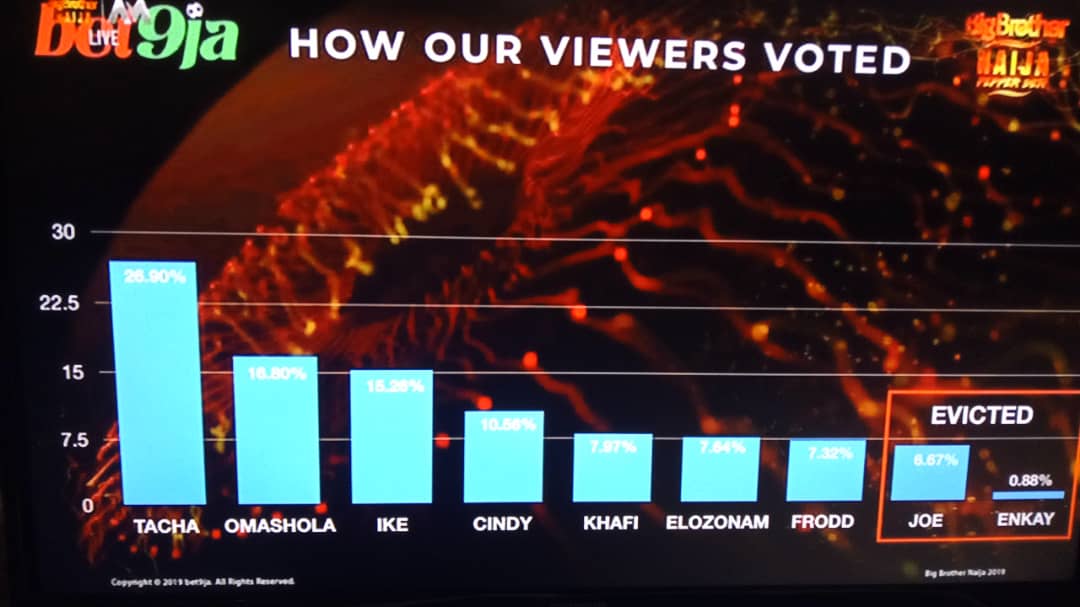 Now, from the graph above, you'd understand why Joe thought Tacha, Omashola and Mike stand the best chance of winning the game….
This week, Tacha who has been concurrently up for eviction scored the highest with a landslide margin showing how powerful her fan base is.
They obviously don't need her back to Instagram dancing nude anytime soon.
Omashola who often seems nervous still survives….. The Warri crooner is often grateful unlike Tacha who believes her Father Abraham would always save her.
Ike and his opened mouth 👄 were also saved….. We believe Mercy's fans also got his A** covered……
Cindy, the underdog is gradually opening up and gained some sympathy votes to spite Enkay. She needs to up her game or she would visit Enkay at home and see if she would eventually agree to play Ludo with her.
Khafi had earlier said she needed to go but her feelings today betrayed her earlier stance on getting evicted.. She seemed to have had her fill of Gedoni's cucumber 🥒….. 😱….. Maybe, the fans need more of their romantic spree.
Elozonam would be allowed to dance more of his robotic dance moves next week at the party but he should watch it…… He might be dancing home soon just like Tuoyo.
Frodd… He should thank his stars Enkay aggrieved some viewers and they sent her home, hence, he would have been on his way to Awuyaya tonight….. Unless his ancestors say no… He might be leaving any time soon if he doesn't step up this week.
That's all we would say for tonight… Hope you now believe in us and our predictions!
Stay glued to this blog for more entertaining write ups on Biggie's show…
Lemme go check what i have on 🔥….
Goodnight….