#BBNaija: Latest Gossips in Biggie's house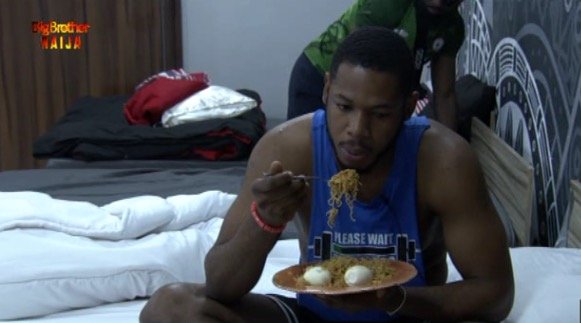 Day 47: The Drama After The Win
Here's the drama that took place in the House after the Icons won the Wager Task.
As the Icons celebrated their Wager win, Cruisetopia threw themselves into a pool of blame game. Some members of the group were particularly angry at Biggie's remark about letting their ego have the best of them. Apparently, he was referring to the rift between Seyi and Mike before the Task presentation. Having realized their mistakes, the Housemates decided to call a meeting to avoid losing in subsequent Tasks.
After The Victory
We all know how much it hurts when you lose a game and it doesn't help when you lose to sore winners. Tacha had a full dose of it last week in the hands of the Cruisetopia team led by Seyi and this time, Tacha wanted her own pound of flesh. Remember Seyi sarcastically asked her to leave the lounge for the winning team while they shopped. Well, her plan to extract her pound of flesh wasn't exactly successful as she met a match in Esther, who promptly asked her and her team to leave. Surprisingly, all Tacha could say was a repeated, "I was just leaving."
After this incident, each member of the team, starting with Seyi, tried to give reasons for their low input in the Task. After resolving to put in their best in subsequent Tasks, Mike and Seyi settled their dispute and hugged each other.
No Kiss for You
In a playful manner, Venita dared Sir Dee to kiss her, but he wasn't about that life and bolted. Venita must have been hurt by this subtle rejection as she asked him why he bolted over a kiss. She even went further to ask if she had bad breath. Being the smart chap he was and probably so as not to hurt her feelings, Sir Dee lighten up the conversation, but Venita was quite done yet and retorted defensively, "My mouth is not stinking and my kiss is great. It's a very costly something. Even when there is begging for it, I do not give it." Has there ever been a Task without Housemates serving us some drama? Well, this time, it was about Venita and Sir Dee.
Night-time Hooligans
What started off as tussle for duvet and pillows between Mike and Jackye soon snowballed into a free for all when a few of the Pepper Dem Gang tugged at each other in the early hours of the morning. Mike in his bid to retrieve his duvet from Jackye met quite a resistance as she held on tightly to it. Venita soon joined in as she teamed up with Jackye to keep Mike from making away with the pillow and duvet. Feeling overwhelmed, Mike yelled out for Ike who soon joined in alongside Joe. It was a playful battle as Mercy, Mike, Venita, Jackye, Joe, and Ike didn't just stop at dragging each other's duvets but also went for their beds. "This is a mad House," Ike yelled as they further descended into chaos. The tussle which went on for over an hour ended with Mike and Jackye pouring water on each other's beds.
Away from the competition and tension, It was quite refreshing watching the Housemates playfully wrestle each other without it turning into an actual fight.