#BBNaija : Viewers come after Biggie's head as they demand more Screen time for Ike & Mercy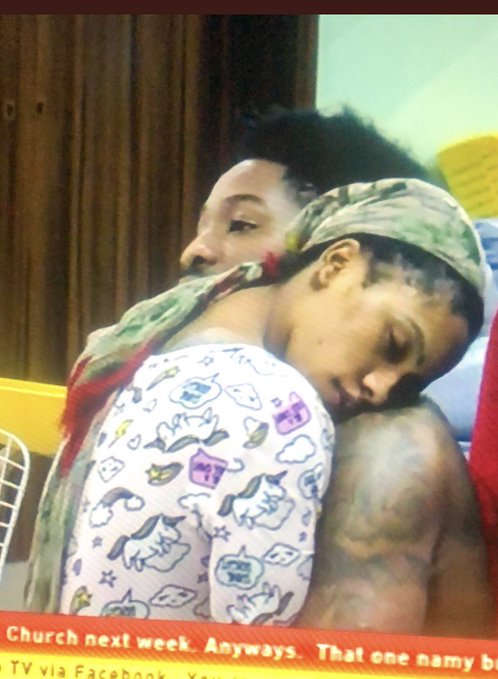 #BBnaija :  The show is getting hotter as Biggie keeps twisting the plot.
Earlier, we noticed some relationships sprouting in Biggie's house as some have decided to play solo.
It was all about Gedoni and Khafi who had decided to bring their Bromance to the screen. Watch their romantic moments HERE.
Recently, Ike and Mercy seem to have taken over as viewers yearn to see them together often.
Their love affair started subtly but has grown to become something serious.
However, viewers think Biggie isn't giving the love birds the ample screen time as expected.
They took to Twitter to vent their anger…
Actually we need a camera focusing on Mercy & Ike alone😭😭💔💔 Damn we deserve it after how Biggy has been treating us! Our sin was living Mercy & Ike and becoming such a big & impactful stanbase!😭😭😭 #MoreScreenTimeForMercyAndIke pic.twitter.com/ePkafgnuSG

— Aluta (@AlutaContinua21) August 14, 2019
#MoreScreenTimeForMercyAndIke@ritaUdominic Aunty Rita, please help us loud this injustice giving to Ike & Mercy by the organizers of Bbnaija….. pic.twitter.com/W32pwVcdDo

— EngrFre (@EngrFre) August 14, 2019
You only show mercy and Ike well after Saturday night party because you are expecting trouble, so you can disqualify either Ike or give mercy a strike..#BBNaija.#MoreScreenTimeForMercyAndIke pic.twitter.com/Gnhy15i5lr

— Nick😕😔😃😃 (@nicksli01) August 14, 2019
Dear @Ebuka @BBNaija I wrote a petition last week that was signed by plenty of us but you refuse to listen 😂So today am starting a riot 😭#MoreScreenTimeForMercyAndIke#MoreScreenTimeForMercyAndIke

Please help me with stones and sticks to throw at these people

#BBNaija pic.twitter.com/VqRkCfi881

— LULU👸👸 (@Lulu33_ZS) August 14, 2019
I need to see more of them. ..please @Ebuka please hear our pleas… I'm sad.. Through out yesterday I anticipated watching them together and till 2pm I rarely slept.. Only for 📷 to show them asleep.. I'm sad.. #MoreScreenTimeForMercyAndIke please #BBNajia do something thanks pic.twitter.com/vMi7voJjTu

— Diana (@horsfall_diana) August 14, 2019
And I go to showmax and Showmax doesn't have anything different to what we seeing mainstream TV 😭😭 #MoreScreenTimeForMercyAndIke pic.twitter.com/B4cpmu1LAI

— Aluta (@AlutaContinua21) August 14, 2019
Dear @Ebuka
I hope you are seeing the bias against mercy and Ike… since you are on Twitter with us,and you read our tweets..try and tell your people to give our mercy and Ike more screen time..if not we will scatter this show..#BBNaija #MORESCREENTIMEFORMERCYANDIKE

— Nick😕😔😃😃 (@nicksli01) August 14, 2019
Give equal screen time for all housemate.
we see yoursabotage for Ike and Mercy.
Im giving up on the show soon.
#MoreScreenTimeForMercyAndIke

— Adaobi 🇳🇬 (@Ada_obii) August 14, 2019
I will not subscribe for Dstv, buy data to tweet and interact on social media for the show and some idiots will tell me to go and watch my favorites on showmax….you people must be mad #MoreScreenTimeForMercyAndIke #NoMercyNoPepper #TeamMerike #BBNaija pic.twitter.com/02DghM25s4

— Najat (@Dr__Najat) August 14, 2019
I don't why we have 2 check #BBNaijaMercyandIke just to see old videos of mercy n ike in order 2 smile n be content when we don't see dem in a day.😢 I have my dstv subscription, we ain't going to showmax.

WHAT INJUSTICE!! #MoreScreenTimeForMercyAndIke#TeamMercy #BBNaija pic.twitter.com/1LbGWh4xlC

— Sonia🇳🇬 (@NSonia_) August 14, 2019
Biggie we are tired of seeing Ludo when our faves are having interesting convo's #MoreScreenTimeForMercyAndIke #Bbnaija

— Gossip CHIC (@gossipchicng) August 14, 2019
#BBNaija
My only wish for today is for hashtag #MoreScreenTimeForMercyAndIke to be the no. 1 trend in Nigeria. It's about time organisers & sponsors of this show realize that they can't play games with viewers, we spend money every damn week. They can't be sabotaging Housemates pic.twitter.com/BmqPuPafc9

— Mercy Eke♡♡ (@BBNFaves) August 14, 2019
They all want to see the bad sides of Ike and mercy but never shows their sweet moments imagine Ike being up for eviction But gets less than 40mins screen time in 24hrs haba #MORESCREENTIMEFORMERCYANDIKE #BBNaija

— igboke jasper (@igbokejasper) August 14, 2019