Unizik finally completes her Beautiful Gate after 15years (Pictures)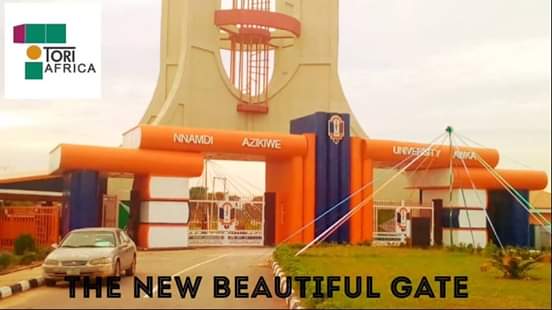 The Nnamdi Azikiwe University, Awka, Anambra State finally completes her main entrance gate called, "The beautiful Gate" after so many years.
Only but the graduates from this prestigious institution would understand the mystery behind this gate that took more than 15years to come to completion.
Whenever you hear of this word "milestone" , this gate perfectly describes it because it took milestone to build it. If i should remind you, this beautiful gate has met and survived three different Vice Chancellors and about to meet the 4th one before the gods of Agu-Awka land said, "ozugozia" (it's ok).
This gate started far before Prof. Ilochi Okafor, SAN took over as the vice Chancellor of the University . That would be dated as far back as 1998. He attacked this edifice in 2004 with full force ( or maybe beyond that) and did everything possible to finish it but Amdioha said "mba my son" (no my son), you won't build the temple for me . He shrugged, dusts his nicker and handed the barton over to Prof. Boniface Egboka after the expiration of his tenure.
Prof. Egboka the prolific striker swore to finish the project with every alacrity, invited the best architects from Oagoudougou and Disney land yet "ihe n'ebe ka n'ebe" (whats crying kept crying).
He later threw in the towel , used his hankie to wipe his sweat, beat his chest and said loudly , "Nnaa, agbanigo m" ( i have tried).
Yet, the Almighty beautiful gate refused to be completed. "Ụwa ntọ́ọ́" ( gesture).
At a time, it looked as if they would invite all the men of God in Awka and even from abroad to carry out some deliverance sessions for the gate, "ka amalugodu nke a n'aya (to be sure of the problem) … It was momentarily opened for usage for a while before the gods of the land started demanding for some pregnant antelop and some some blind tortoise……… It was then abandoned again for years and reverted to the old and only extreme gate with ever working Ifite gate……… Church gbasaaa…
After some periods of annihilation, Prof. Egboka then handed over the gate project to Prof. Ahaneku who used almighty formula to try solving the problem to no avail. After 3 years and some months, he noticed that the gods have sworn never to allow the gate to be completed. As an Mbaise man, he devised another swift technique and decided to re-design another gate and attach it to the wall of Jericho. The proverbial case of, "Ugwu mụta mgbaji ukwu", (When mountain starts breaking of waist) technique.
Now, if you take a closer look, you would notice that the new, "Lekki toll gate" attached to the stubborn "Tower of Bebel" 🗼 behind is only but a swift approach to see if the gate would agree to finally get finished.
All hail Ahaneku semantics……!!!!
Finally, it seems that the gate would be completed. He has less than 3 months to go and the gate is almost looking as beautiful as Aso Rock.
Mind you, it's not totally completed but i would simply say, "ihe riri nni aracha go ofe". (what ate the food has also licked the soup)!!
Today kicks off Unizik's convocation ceremony and maybe, it was used temporarily as they still await the official opening upon finishing anytime soon.
All hail great Unizik…….!!!!
I'm a proud Giant, Engr. Echezonam Ibezim Jk ( I write for fun ) ……. All Giants report here let's pray for this gate.!!!
See the beautiful pictures below….